FIU Panthers vs. Indiana Hoosiers
Ocean Bank Field at FIU Stadium Thursday September 1st 2016
First, let me talk about how awesome it is to be covering our very first college football game in the history of Lemon City Live (LCL). We went from 3 friends talking sports, to covering Div. II pro soccer, and have now expanded to covering some big time college football programs, sitting next to NFL scouts. WTF is that about?! Since things come full circle, what better place than FIU to begin our college football coverage experience? All three of your boys have graced the halls and classrooms of FIU at one point or another, so we're pretty excited to cover a school we have some connection to.
FIU is a very young program, having played their very first game ever back in 2002. In 2005 they moved up to Div. I FBS, which is the highest level of college football, joining the Sun Belt Conference, making them the fastest school to ever reach that level at the time. During their time in the Sun Belt, under then head coach Mario Cristobal, they won their first ever bowl game in the Little Caesars (fake LCL sponsor) Bowl in 2010, defeating the Toledo Rockets, lead by now NFL star T.Y. Hilton. The following season they accepted an invitation to play in the Beef 'O' Brady's Bowl, losing against future conference opponent, Marshall.
In 2013, FIU moved to Conference USA, and hired new and current head coach Ron Turner. Their record has been a lamentable 21-35 since doing so. Fans languish the days when the team was lead by Mario Cristobal, but most fans will agree that coach Turner has been slowly turning the team around in the right direction. Lets just hope this direction is not facedown in a gutter, covered in their own vomit. This could be a make or break season for coach turner if the team overshoots or underwhelms expectations. Fingers crossed for "overshoots".
On Thursday, September 1st, the Panthers took on the Indiana Hoosiers, who play in the Big Ten Conference, which is one of the Power-Five conferences. Power-Five conferences are traditionally the best conferences and pretty much have 1st dibs on the four playoff spots that are currently available, so it's always a big test when the Panthers play one of these teams. The Hoosiers went 6-7 last year and lost in their bowl game vs Duke 44-41. Although not a great team, beating a Power-Five team would be a great win for FIU Football. FIU also play Hoosier's fellow Big Ten Conference member Maryland this season.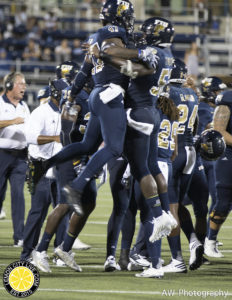 The game started out slow, but you wouldn't have thought so, with FIU taking the early lead on a 64-yard drive, ending with a field goal on their first drive. After that, FIU forced an Indiana punt, but would then give up a safety. Really, bro? On the very next drive, Indiana fumbles, recovers, and ends their 10-play, 53-yard drive with a field goal. FIU then goes 3 and out. Indiana follows up by moving the ball into FIU's red zone, which leads to a missed field goal in the beginning of the 2nd quarter. After one entire quarter, the score is 5-3… It's at this moment when I'm sure the collective FIU fan base wished for a touchdown, but be careful what you wish for. After a 5-yard run by Alex Gardner, QB Alex McGough throws a pick-6 (Interception ran back for a TD) to Rashard Fant for a 34-yard Hoosier TD return. Son-of-a-bitch! However, McGough redeems himself with a 40-yard beauty of a pass to Stantley Thomas, followed by a 13-yard pass to Jonnu Smith, and an Alex Gardner 1-yard run for a TD! The next 4 possessions all end in punts, and the half ends with the Hoosiers up 12-10.
The second half begins with a Hoosiers fumble, followed by three consecutive punts, and then a Hoosiers turnover on downs, coming from three incomplete passes, a false start penalty, and a 1-yard gain from the FIU 25 yard line. Not much faith in your field goal kicker, huh? I hope they didn't waste a scholarship on that guy, and instead got a walk-on to fill the spot. FIU then follows up with a 6-play, 63-yard drive, ending with a field goal, and they would hold that lead into the 4th quarter, which was not so kind to them. It's as if Indiana suddenly decided to play Big Ten football, or maybe FIU ran out of steam. Either way, FIU was outclassed in that 4th quarter. Indiana went on to score three unanswered TD's, one with a 2-point conversion, and blowing out FIU 34-13. The final score in no way tells the story of how the game unfolded. FIU took it to a Power Five school, but was unable to keep pace in the final stretch. Their next test is only a few short days away, on Friday, September 9th, against Maryland, another Big Ten school. Let's see if FIU learned anything from their home opener and can come away with a victory vs a Power Five school.
For complete photo gallery of this game, please click here.
(Visited 69 times, 1 visits today)
About Post Author