Miami Gardens, FL– The Miami FC 2 begins its NPSL career with a scintillating intra-city showdown against Miami United FC in the Magic City Clásico. The match will take place on Sunday, April 15th at Milander Park. Kickoff is set for 7:00 p.m.
Perfect Preseason
The Miami FC 2 took part in four tuneups before the NPSL season in order to refine touches and get in good form. Miami went 4-0 in the preseason, winning their matches by a combined scoreline of 20-1. While the competition in the NPSL will be tougher, both physically and mentally, Miami can feel confident in its offensive and defensive form going into the regular season opener.
The preseason is finally over and .@SilvermanShow caught up with @mason_trafford ahead of Sunday's #MagicCityClasico pic.twitter.com/9wTiNKUtiZ

— The Miami FC (@TheMiamiFC) April 12, 2018
Dangerous Attack, Assuring Defense
Miami FC 2 boasts a bevy of threatening attacking options, with the likes of Vincenzo Rennella, Don Smart and Coy Craft manning the front line and Dylan Mares and Jeff Michaud right behind. It's no wonder how Miami scored an average of five goals per preseason match, and the bench even get in on a lot of the action.
While the attack will take the headlines, Miami's back line will be as fortified as ever with some familiar chemistry. Three defenders–Mason Trafford, Rhett Bernstein and Tyler Ruthven–return from last year's squad and start, with former FC Cincinnati left back Tyler Polak rounding out the stout unit.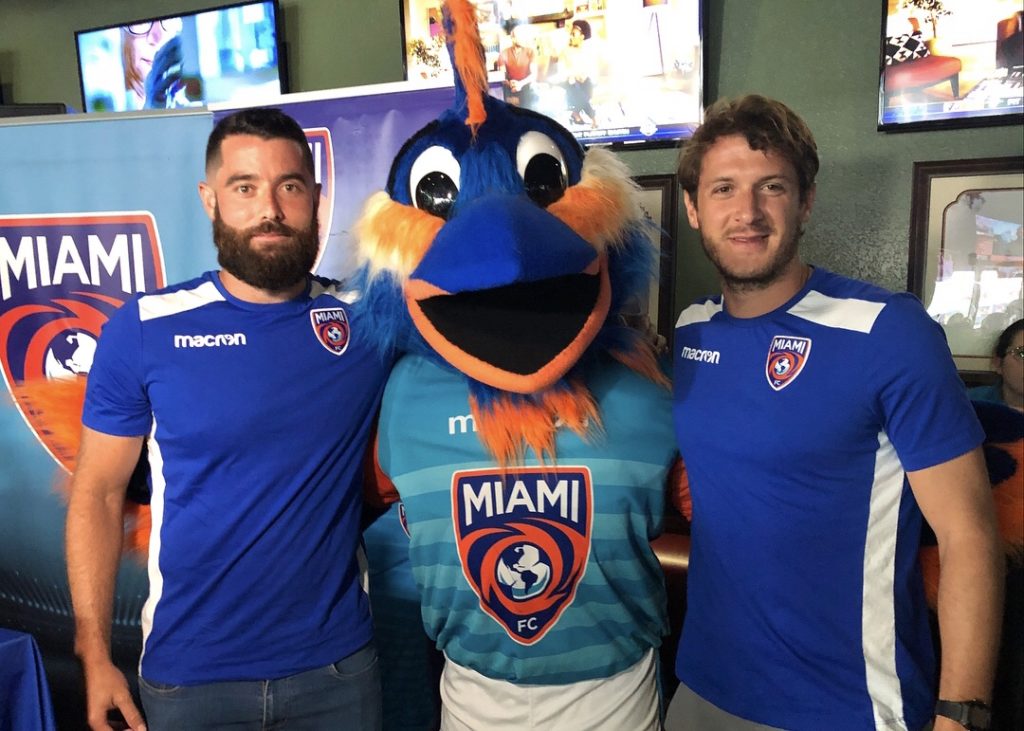 Players to Watch
Jeff Michaud has gotten off to a flying start since signing with Miami a few weeks ago. In his second match with Miami, Michaud tallied his first Miami FC 2 goal with a long distance strike that wound up being the match-winning goal. That strike was nothing out of the ordinary for those who are familiar with Michaud, who has a powerful shot and loves to test goalkeepers from outside of the box. Michaud's dynamic attacking ability gives Miami even more firepower on a stacked offense.
Mason Trafford will once again lead Miami's back line for the third season in a row. One of the best defenders in all of U.S. Soccer last season, Trafford earned NASL Best XI honors for his stellar work in defense. Trafford combines with Rhett Bernstein to form an imposing center back duo that can cut out any pass and thwart any attack. Trafford's technical ability on the ball makes him an extremely well-rounded and versatile center back.
No more friendlies … Now we play for real! #VamosMiami@TheMiamiFC 2 & @miamiunitedfc will finally face each other on the pitch in the first-ever #MagicCityClasico!

Sunday, April 15 at 7 p.m. at Ted Hendricks Stadium … The first chapter in this new rivalry will be written! pic.twitter.com/oA6K6pFyCr — The Miami FC (@TheMiamiFC) April 10, 2018
Looking Ahead
Miami FC 2 and Miami United FC face each other once again, this time at Bobcat Field at St. Thomas University on Saturday, April 21st at 7:00 p.m. The second Magic City Clásico is the beginning of a four-match homestand for Miami FC 2, who will then embark on a four-match road trip.
The Miami FC – Media Release
📷 Credit: The Miami FC
(Visited 460 times, 1 visits today)