Tampa, Florida – OK, USA… I know you brought your B squad, and you're trying out some new things, but it's time to stop fuckin' around. I know you're focused on Russia (I mean who isn't right now, am I right?), but you can't lose another Gold Cup. Now go win us a cup while I talk to some Lemon Heads.
First, let's start with the rival. Mexico just finished playing in the Confederations Cup, so they also brought their B squad. There's no reason the U.S. can't beat that team, who's also without their coach while he serves a six game suspension for being an insane person, should they meet in the latter rounds.
"There's a lot to build on… but we'll keep working on it." – Dom Dwyer
Next, let's focus on their group. Their first match vs Panama wasn't expected to be easy. As I mentioned in the Nicaragua vs Panama article "Panama has been a threat as of late in the CONCACAF. They were one late USA goal away from qualifying for the last World Cup (Thanks Graham Zusi), and they finished third at the last Gold Cup." Well, the US, playing pretty much with a brand new team, came out relatively strong, as Dom Dwyer in the 50th minute scored his first goal for country in a tournament, saying "There's a lot to build on… but we'll keep working on it." Where the U.S. has traditionally done well, they seem to be struggling with this young squad. Their defense is nothing but suspect, as Panama kept pushing them back into the 18, and eventually capitalized, equalizing in the 60th minute.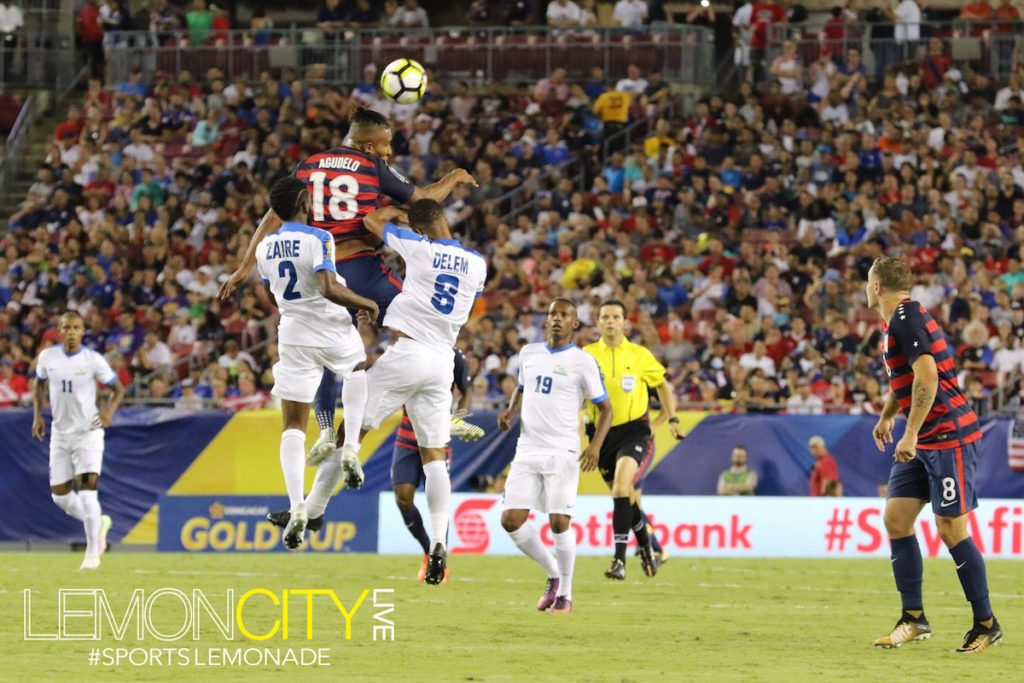 Today's match against Martinique should be a guaranteed win. Should. So far, the shining aspects of this young squad, Dom Dwyer & Jordan Morris, are keeping them afloat. This, sort of, feels like the Tuesday afternoon lineup at your local strip club, where you find yourself wondering what you're watching. Is that a C-section scar, and is she missing teeth? Either way, the food isn't bad. Where am I going with this? There are always maybe a handful of girls that are worth dancing in the big time, but it doesn't look good for the others. The first half of the match was rough, as the Stars and Stripes controlled possession, creating chances, but could not capitalize. Martinique, while spending most of their defending, created some chances, but Brad Guzan, aka Big Sperm, came up with some big blocks. Martinique even hit the post in one of their shots!
This, sort of, feels like the Tuesday afternoon lineup at your local strip club, where you find yourself wondering what you're watching.
The second half is where the action happened, like in MTV's Cribs, when they take you into the bedroom. Omar Gonzalez found a rebound off an Arriola shot in the 53rd minute, and put it into the back of the net. In the 64th minute, Jordan Morris caught a cross from Eric Lichaj, which he tipped into the back of the net. At this point, you're thinking that the U.S. is going to run away with this match, but Martinique had a different idea. In the 66th minute Kevin Parsemain takes a shot from outside the 18, and Big Sperm couldn't handle it. Guzan is kind of infuriating. I don't know how he beat out all the other sperm at inception. In the 74th minute, Martinique catches the U.S. on their heels and gets in a cross that was shot right at Guzan, but Kevin Parsemain gets the rebound and his shot is deflected way over Big Sperms head. How do you let Martinique equalize after leading 2-0? Good thing Jordan Morris likes playing under the big neon lights. In the 76th minute he caught another cross, this time from Zardes, and the Martinique keeper had zero chance of blocking that.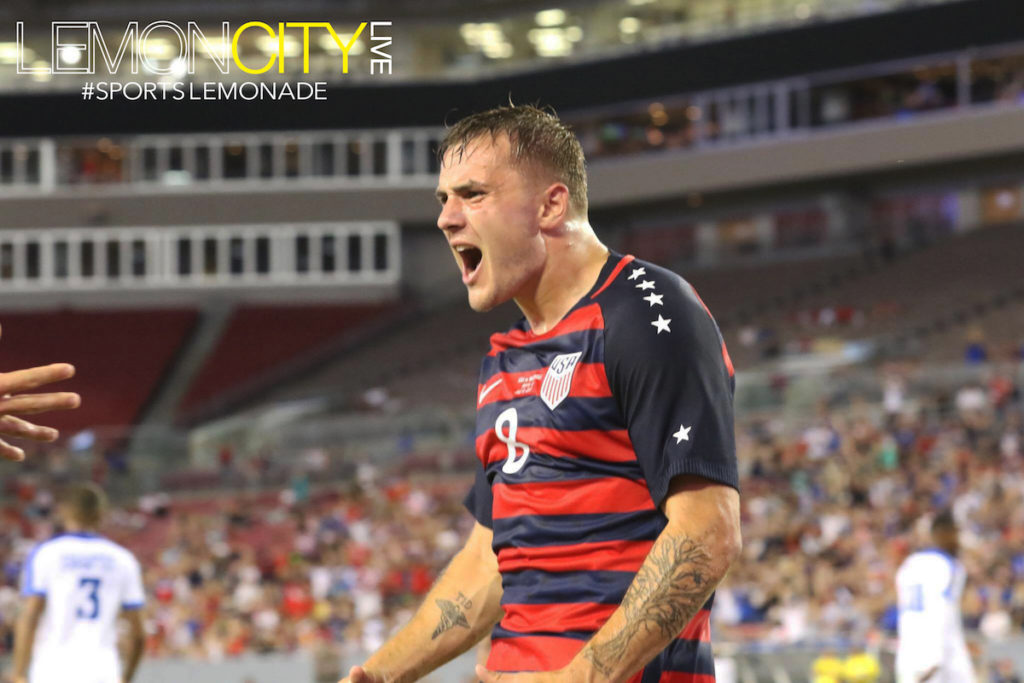 After a hard-fought match, the U.S. would go on to win 3-2. If the U.S. wants to win this Gold Cup, they've got to do a better job communicating and keeping the ball outside of their area. Also, Guzan has to block shots that have no business finding the back of the net. When asked what Coach Bruce Arena said to them at half time, Jordan Morris said "Come out and be a little bit more aggressive…be a little bit sharper…I think we did that in the 2nd half." You can listen to the entire interview with Coach Bruce Arena, Jordan Morris, and Omar Gonzalez below.
Short turnaround. We'll compete to win our #GoldCup2017 group Saturday night in Cleveland vs. #NCA.

📊 & 📰 | https://t.co/LsfsQneMJN pic.twitter.com/BiVERlB0Jg

— U.S. Soccer (@ussoccer) July 13, 2017
For a complete photo gallery of this game, please CLICK HERE.
Don't forget to follow us on Twitter, Facebook, and Instagram.
(Visited 94 times, 1 visits today)