As expected and hoped for, the Marlins split the series with the Cubs and won 4 of the 7 games this week. Not bad, all things considering. We faced a tough Washington Nationals team and then the World Series Champs, we really could have ended the week 2-5 setting us back. In fact, the series opener against Chicago was as ugly as it could get.
The Cubs went deep thrice making short work of both Jeff Locke and the bullpen. Our lone bright spot was Marcell Ozuna firing away the lone homer and run for our fried fish. Cubs' starter Jake Arrieta pitched 7 strong innings of one-run ball as Locke lasted 4 frames giving up 5 runs on 7 hits and walking 3. Relievers Dustin McGowan, newly returned Junichi Tazawa and Vance Worley were all tagged for at least one more run in the 11-1 beat down Thursday evening. Kris Bryant, Addison Russell and Ian Happ had fantastic nights going 2-for-4, 4-for-5 and 4-for5 respectively, all together driving in 7 of the 11 runs. Toss this one into the games I want to forget folder.
The Marlins bounced back in game two on Friday as José Ureña went 6 deep with the bullpen taking over and keeping the Cubs scoreless. Giancarlo Stanton sent a solo shot into the bleachers in the third and Christian Yelich added an insurance run on a sac fly in the sixth scoring Dee Gordon to win 2-0. Ureña improved to 6-2 with an ERA now floating at 3.33, winning his last 5 outings. It's worth mentioning we were outhit 6-3. But we made them count. Chicago did threaten in the eighth with David Phelps on the mound in relief, but Phelps jammed Happ with the pitch, causing him to hit a grounder to Gordon who flipped it to J.T. Riddle and then to Justin Bour for the much needed double play. Hot bat Addison Russell was contained going 0 for 4, striking out twice.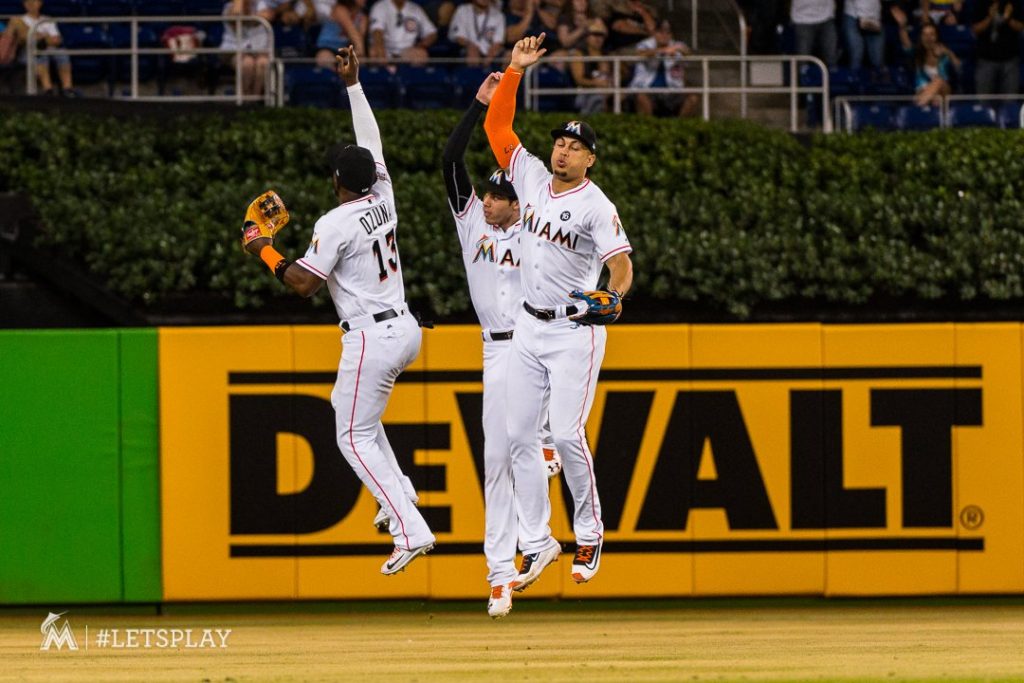 The victory eased much of the dread I had for the rest of the series given we could of lost 3 out of 4 or been swept outright. Right on time too since I went to the third game on Saturday, though the pitching match-up left me groaning. Jon Lester versus Justin Nicolino, yikes.
The fish started off swimmingly with J.T. Realmuto launching a 3-run shot off Jon Lester to take an early 3-1 lead but our bats turned painfully silent as the Cubs eventually rallied scoring in the fourth and sixth to defeat us 5-3. Javier Baez singled to left scoring Addison Russell, which was quickly followed up with a double from Albert Almora, scoring Baez to tie the game. The killing blow came in the sixth as Baez struck again with a double scoring both Addison Russell and Ian Happ. My heart sank as the ball sailed right over Stanton's head. The Cub leaning crowd roared while I just shook my head in private disgust. We had a chance in the bottom of the sixth. Dee Gordon was on second after a base hit and a successful steal, his 29th of the year, with Yelich at bat and only one out. Then things went horribly wrong as Gordon was gunned down trying to get to third and despite our challenge, the call was upheld. Adding insult to injury, Yelich struck out shortly after ending the threat. Down in flames.
Lester did a good job shaking off the three-run belt in the first and locked down the Marlins for the next 6 innings. The Chicago bullpen surrendered ZERO hits for the eighth and ninth. A tough, disappointing loss with a split the best we could hope for.
Thankfully, the pendulum swung back to us on Sunday with Edinson Volquez squaring off against Mike Montgomery. The Marlins struck early once again, this time behind Martin Prado and Ozuna. Ozuna got it started with a hit scoring Ichiro Suzuki and then Prado hit a line drive double to left field, scoring Justin Bour and Ozuna to take a 3-0 lead, welcome back Prado! The Cubs closed the gap with sac flies in the fourth and fifth by Anthony Rizzo and Tommy La Stella making it 3-2 but Stanton hit his 20th homer of the season in the seventh to add an extra insurance run.
Volquez pitched 5 innings giving up only two runs and the bullpen handled the rest thanks to Jarlin Garcia, David Phelps and last but not least A.J. Ramos. Ballgame! Ramos collected save number 12 and Volquez improved to 4-8 with an ERA of 4.15.
The Cubs outhit the Marlins 8 to 5 but their only run production this game came from sacrifice flies, once again the Marlins made the hits count. On numerous occasions the Marlins stranded runners and played with fire, particularly in the second and fourth inning where Volquez faced Anthony Rizzo twice with the bases loaded. In the second Edinson retired Rizzo while limiting the damage in the fourth as Rizzo scored a run on a sac fly. While it wasn't an outstanding performance by Miami, a win is a win.
The art of a post-win pie. 🐵#FishWin pic.twitter.com/F8K3tq8YuM

— #VoteMarlins (@Marlins) June 25, 2017
Star Performances of the Series
J.T Realmuto had a good series going 2 for 3 in the first game stringing a double while launching the three-run shot in game 3 continuing his contributions from behind the plate.
Meanwhile, Stanton continues being his good self smacking two homeruns in the series, tying Ozuna for most dingers in the team this season with 20. Bour is right behind them with 18.
A.J. Ramos got the job done securing both save opportunities, notching in another pair of strikeouts on a record of 2-3 with 12 saves and an ERA of 3.62.
And we cannot forget about José Ureña going 6 deep and keeping the Cubs off the board, giving up only 5 hits, improving his record to 6-2. Keep it up kid.
Overall, I am happy with the Marlins this week for winning the series against the Nats and splitting with the Cubs despite squandered opportunities on Saturday. But ay, winning the majority of your games in the week is never bad. The offense along with our pitching has had its fair share of ups and downs but so long as we don't fall into any real slump anytime soon, little by little, inch by inch our fighting fish will claw their way to .500 and hopefully put some distance between us and most of the NL East. They're grabbing some well-deserved rest Monday with the New York Mets coming to town to finish the 10-game home stand. I'm feeling another series win, they better. After the series against the Mets the home team will not be returning until after All-Star Break. Bring on the Mets! And remember, stay frosty.
Stat of the Week: 12. Only 12 times in Marlins history has a hitter reached 20 home runs before All-Star Break. Marcell Ozuna did it on Thursday as the 11th. Giancarlo Stanton was number 12 on Sunday. Mike Lowell meanwhile holds the franchise record with 28 in 2003.
20 home runs, and it's not even the All-Star break. 💪#VoteStanton | https://t.co/DrOhJmBmWc pic.twitter.com/zgdcui1tbD

— #VoteMarlins (@Marlins) June 25, 2017
Upcoming Games
New York Mets: June 27-29 (Home)
Milwaukee Brewers: June 30-July 2 (Away)
Views from the Cheap Seats is a weekly segment where a Miami raised sports nut recaps, screams and analyses a week's worth of games giving a toast, or the finger, to his hometown team depending on their performance. A truly hopeful but always realistic fan putting thoughts to pen to paper and always striving to improve. Be bold, be good, be you.
Don't forget to follow us on Twitter, Facebook, and Instagram.
(Visited 105 times, 1 visits today)