Allow me to introduce to those the daily life of a Marlins fan: Pessimism followed by jubilant excitement, quickly succeeded by maddening dread followed up with pleasant euphoria and then finally depression. Rinse, repeat. There is a mental and physical price to pay for being a Marlins fan, they are not for the faint of heart. Hell on many days, they aren't for anybody. But we, not only defeated the Washington Nationals, but we did it winning two out of three… both times in stunning fashion. While we go on to face the Cubbies, they will get a much needed day off, giving them something to think about.
On Monday the Marlins mounted the first of two improbable victories. Miami had rallied being down 6-0 early with Justin Bour leading the way on a third inning, two-out grand slam. In one stroke, Bour allowed everyone across the country to enjoy significantly discounted pizza, truly a gesture worthy of praise.
The Nationals broke the tie with a double in the fifth by Stephen Drew, scoring Ryan Zimmerman but the Marlins ultimately persevered with a homerun from Giancarlo Stanton in the seventh and a walk-off hit from the last member of the Big 3, Marcell Ozuna with two outs and the bases loaded in the ninth. He scored Dee Gordon. Gordon kept the Marlins alive drawing a two out walk followed by a stolen base at second as well as moving to third due to an infield hit from Stanton.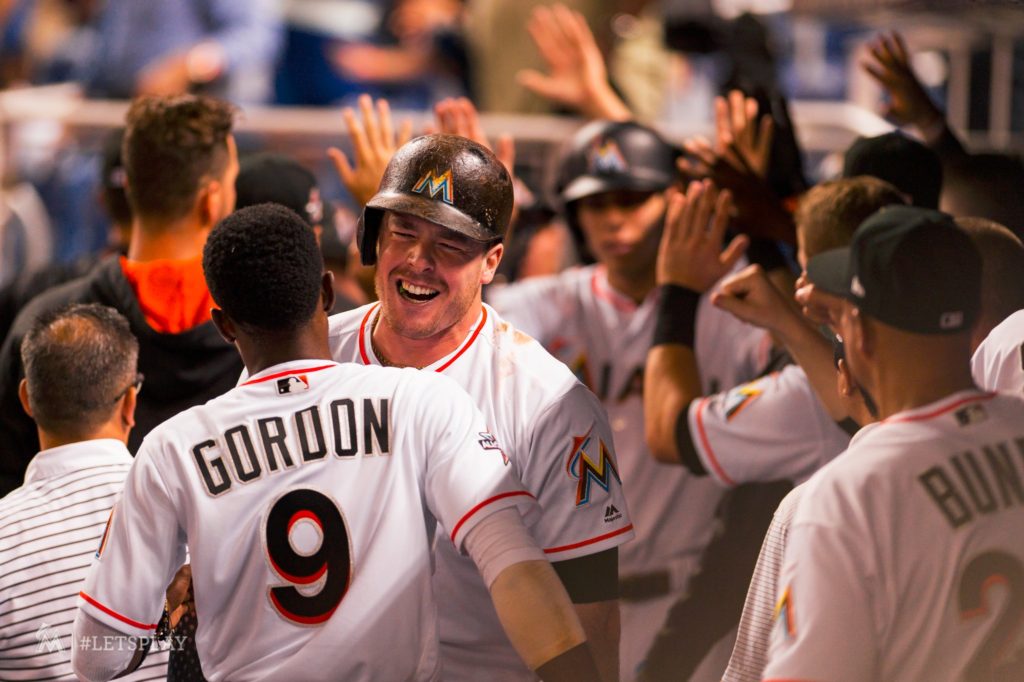 Both Tanner Roark and Justin Nicolino were knocked out by the start of the fourth inning. Nocolino gave up 6 runs, 3 of them earned, including surrendering two long balls to our adversaries. Vance Worley took over, pitching two innings in relief, giving up a run as well. From there Jarlin Garcia, Dustin McGowan, Kyle Barraclough and lastly A.J. Ramos kept the Nats off the board allowing us to duplicate what the Braves did over the weekend. Overall the Marlins scored 8 runs on 12 hits including a triple (Thanks Riddle) and two homers. By the way, our runs came on 2 outs both in the third and in the ninth. Bour's grand slam truly was our turning point.
In Game 2, our excitement was forcibly thrown out the window of a 10-story building. There was no suspense as we got spanked 12-3. Gio Gonzalez went up against our own Edinson Volquez and judging by the score, you'd think this was a whooping from the get go but not so. Volquez coughed up 2 from a liner by Bryce Harper in the third, however, J.T. Realmuto laced himself a double in the fourth driving in Marcell Ozuna to make it 2-1. Then things got a wee bit out of control as Washington's Brian Goodman, Ryan Zimmerman and Stephen Drew tattooed Volquez for 4 more runs in the fifth. But even then, we answered back with a bomb from Ozuna, scoring Yelich to make it 6-3. Our chances slipped further with a homer by Daniel Murphy but we're the Miami Marlins, the fighting fish, we've bounced back before we can do it again, right? Wrong. Yeah the wheels definitely came off in the ninth as Zimmerman, Murphy, Drew and now Matt Wieters slashed 5 more runs putting the game way out of reach torching Brad Ziegler in the process. Volquez would drop to 3-8 with an ERA standing now at 4.19. A forgettable game. In the similar words of a well-known, well-respected rooster: Did you order original recipe or extra criiisspy?
The next was a game filled with absolute dread as inning after inning Max Scherzer crawled closer and closer to no-hitting us in our own damn ballpark. Things were looking incredibly bleak as Scherzer took the no-hit bid all the way to the EIGTH inning. And then it happened, the unthinkable. The baseball gods are a fickle group as fortune suddenly smiled upon our beloved team. Not only did we say no to the no-no with A.J. Ellis breaking up the possibility on a 1-out infield single but we broke Schezer's absolute dominance declaring in one voice we would not go quietly into the night, that we would not vanish without a fight, that we're going to live on, we're going to survive and today we were going to celebrate an improbable rally and victory! With Stanton at the plate, a wild pitch allowed Jose Urena (Pinch-running for Ellis, yep you read right) to score from third, tying the game. Then Stanton, singled on a line-drive to left, scoring J.T. Realmuto. It allowed for A.J. Ramos to close out the Nationals and ballgame! The Marlins won the series in exciting fashion! Scherzer came dangerously close of making history to become the sixth pitcher in the Majors with at least three no-hitters. He was victimized when Ellis tapped an infield single that bounced off his glove with one out in the eighth. Then the chain reaction kept going as J.T. Realmuto hit a grounder to short but the first basemen Adam Lind could not come up with the throw resulting in an error and with runners at the corners. At this point it was clear Scherzer was rattled as evidenced by Dee Gordon getting beaned, followed by the bases-loaded wild throw scoring Urena. Stanton just applied the icing on the comeback cake.
Late game winner alert! @Marlins we're getting no-hit by Max Scherzer into the 8th, but some clutch at-bats loaded the bases for Stanton. W! pic.twitter.com/5O2gaTzvIy

— Lemon City Live (@LemonCityLive) June 21, 2017
But the bats can't take all the credit. No way man. Look at the box score, 2-1. That's a rare score for the Marlins these days, especially when it's in our favor. Dan Straily pitched 6 superb innings giving up 1 solitary run on 3 meager hits though admittedly the run was on a homer by leftfielder Ryan Raburn in the fifth. From there Jarlin García, Kyle Barraclough and A.J. Ramos kept the Nationals in check putting together a great performance. Take a bow guys, without you the no-hit might've been avoided but it would amount to a pyrrhic victory.
Star Performances from June 19-21
The grand slam by Justin Bour set the tone for the first game and to a lesser extent the series showing our NL East rivals we will not go down so easily. As long as Bour remains healthy he will continue to contribute in a big way.
Though quiet hitting wise in the series finale Wednesday, Marcell Ozuna went 4-for-8 in the first two games, collecting 3 RBIs and a homer increasing his All-Star resume.
Giancarlo Stanton kept us going in the first game with his power and edged us to victory with small ball in the finale showing so long as your clutch, that's all that matters. He went 3-for-12 in the series with 2 runs and 2 RBIs.
Dan Straily gets the tip of the cap after a strong performance Wednesday afternoon keeping the damage to a minimum and putting out a quality start grabbing 6 strikeouts in the process. He remains 5-4 but his ERA stands at a respectable 3.43.
Our quest for relevance continues against the Chicago Cubs in a four-game series with myself attending the game on Saturday. Was my opening line a generalization or a confession? Is it time to call the guys in the white suits? Either way let's hope I don't leave Saturday in a straightjacket eh? Stay frosty.
Stat of the "Week": 2. That's right, I made two movie references in this piece. Scandalous.
✔️ Game won
✔️ Series won
✔️ 12-3 over our last 15 games at @MarlinsPark!#FishWin 😃 pic.twitter.com/PE1wwtorQK

— #VoteMarlins (@Marlins) June 21, 2017
Upcoming Games
Chicago Cubs: June 22-25 (Home)
New York Mets: June 27-29 (Home)
Views from the Cheap Seats is a weekly segment where a Miami raised sports nut recaps, screams and analyses a week's worth of games giving a toast, or the finger, to his hometown team depending on their performance. A truly hopeful but always realistic fan putting thoughts to pen to paper and always striving to improve. Be bold, be good, be you.
Don't forget to follow us on Twitter, Facebook, and Instagram.
(Visited 95 times, 1 visits today)