Miami, FL – The Miami FC erased a 2-1 deficit and beat Miami United FC 3-2 in the NPSL Sunshine Conference Final on Saturday night, winning its sixth overall trophy in the process.
This edition of the Magic City Clasico finally had some scoring and definitely did not disappoint. Miami United came into Buccaneer Field (Along with the Vice City 1896 supporters group) Saturday night, hoping to throw a monkey wrench into Orange and Blue's attempt to repeat as national champs. MFC showed some incredible resiliency and overcame a halftime deficit to put an end to United's season.
MFC's breakthrough came in the eighth minute when a Dylan Mares free kick was mishandled by United defender, Javier Chila and whistled for a handball. "The Magic City Mago", Ariel Martinez stepped up to the penalty spot and chipped a Panenka down the middle and past diving United goalkeeper.
GOL de Ariel Martínez! A great penalty by el mago cubano puts Miami FC 1-0 up over Miami United early in this #MagicCityClasico!https://t.co/dBnmTA7O06#VamosMiami #NPSL #MIAvMUFC #Miami

— Magic City Soccer (@MagicCitySoccer) July 13, 2019
MFC was moving the ball effectively through the middle of the United defense to open the game, but looked to get complacent after the Martinez goal. United saw this and quickly took advantage, scoring a couple of quick goals in succession to give them the lead heading into the half.
Coach Dalglish made the necessary adjustments at the break and MFC came out clicking on all cylinders in the second half.
MFC got back to their gameplan to start the second half and it paid off quickly. Creating chances and a couple near misses had MFC on the verge of equalizing at any moment. A fantastic passing sequence for MFC culminated with Mares laying off a great ball to Martinez, who buried it to tie the match at 2-2 in 57′. Ten minutes later, Mares finds Martinez who keeps his cool and lays off a beauty to Miguel Gonzalez, putting MFC up for good, 3-2.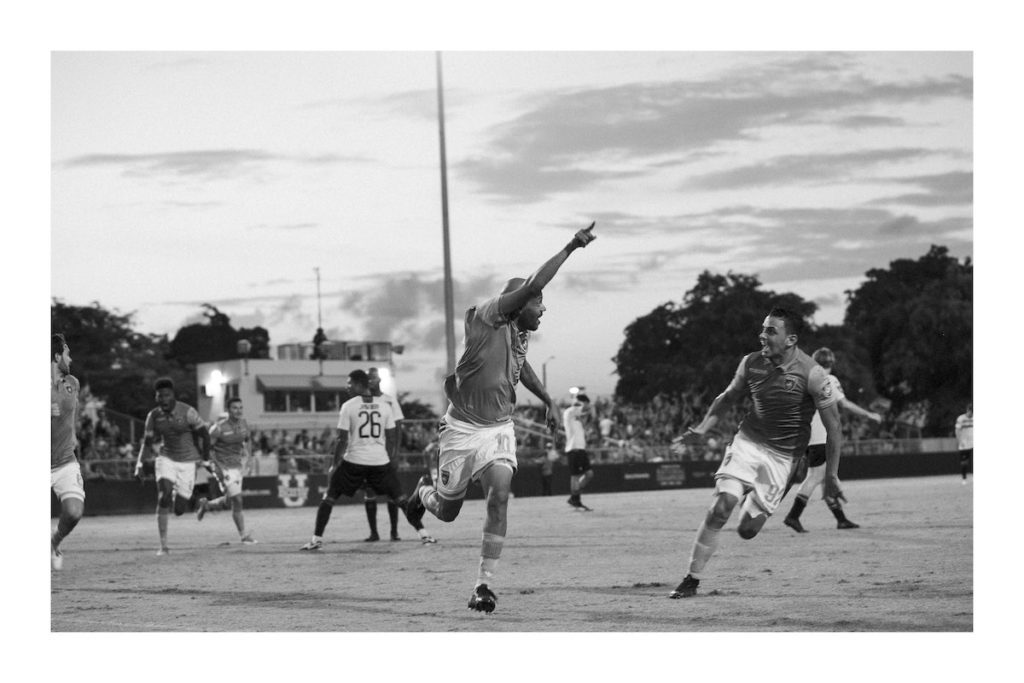 After taking the lead, MFC didn't let off the gas, nearly scoring again on a Mohamed Thiaw attempt in 73′ that just missed wide. The defense stepped up in the end in what felt like 15 minutes of added time due to injuries and substitutions. MFC Held down the fort and came away with a crucial victory in the Sunshine Conference Final.
🏆… and the lift!🏆 #Campeones #TrophySZN #OneDown #TwoMoreToGo pic.twitter.com/1rL5eVr1gv

— The Miami FC (@TheMiamiFC) July 14, 2019
The Miami FC will now await Chattanooga FC, champions of the Southeast Conference, at Buccaneer Field at Barry University, where the Orange and Blue will host a South Region Semifinal.
#PostmatchPresser: Defender @inzahgi_23mb and Head Coach @DalglishPaul spoke with @kkfla737 after @TheMiamiFC's 3-2 come-from-behind win in the Sunshine Conference Final! #VamosMiami #DefendTheCups #MustWatch pic.twitter.com/Pdq2kfEjx1

— The Miami FC (@TheMiamiFC) July 14, 2019
Photos : Nicolas Primout
[envira-gallery id="17728″]
(Visited 186 times, 1 visits today)