Miami, FL – Are we in Lima, Peru? Where's my Lomo Saltado, or my Ceviche from El Mirador restaurant by the Naval Academy? And why haven't I been offered any pisco sours? I ask because this match is nothing short of a home game for Peru. Miami-Dade has, by far, the largest Peruvian population in the United States, so it's not surprising to see all the Peruvian fans fill up Hard Rock Stadium. If I had to guess, I'd say over 99% of the fans there were supporting Los Incas.
Peru faced Croatia, who's got enough star power to make up for their lack of a fan-base in Miami. Their captain, and #10, is Luka Modric, who rocks the same number for Real Madrid. And just in case you're not aware, wearing #10 is kind of a big deal, let alone for a team like Real Madrid. Accompanying him is Mario Mandzukic, who features for Italian powerhouse, Juventus. To round out their Big Three is FC Barcelona star Ivan Rakitic, who features alongside players like Lionel Messi and Andres Iniesta.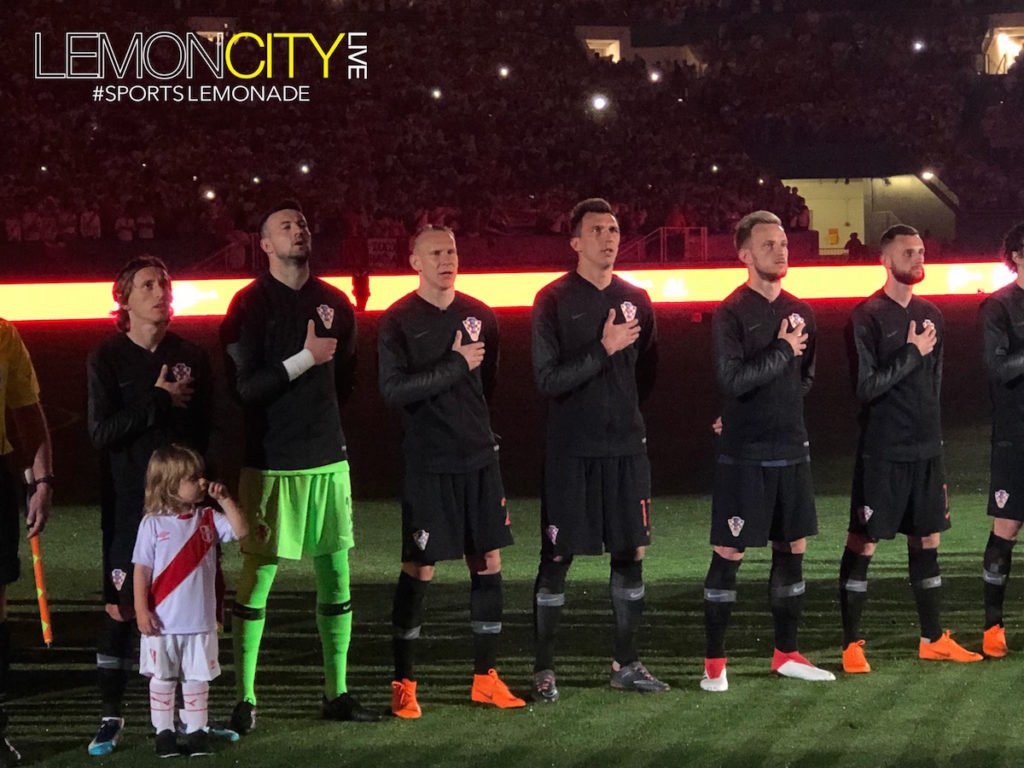 The pregame festivities were less celebratory than usual, as there was a moment of silence for both, the victims of the FIU bridge collapse, and Stoneman Douglas shooting victims. The Miami Dolphins and Hard Rock Stadium hosted Stoneman Douglas' soccer teams for the Peru-Croatia match. On Thursday night, the MSD soccer players were invited to watch Croatia's practice at Hard Rock Stadium and have organic interactions with the Croatian players. On game day, the players, coaches and their families were guests of Hard Rock Stadium for the match as well. The student-athletes were paired with players and joined them to stand on the field for the teams' respective national anthems. Throughout the game, the student-athletes assisted as ball kids. Fourteen-year-old soccer player Alyssa Alhadeff was a victim of the Feb. 14 tragedy and her father and two brothers were also in attendance. This gesture is a continuation of the Miami Dolphins support for the Parkland community. In the weeks since the tragedy, the organization has rallied to support vigils, teamed with South Florida professional teams to visit the victims' families, hosted a football clinic and donated to provide relief and financial support to the victims and families, among other efforts. It's amazing how sports bring communities together, even in difficult times.
There was a game to be played though, and I won't sugarcoat it. Once the game started, it was "Lit AF", as the kids say. Peru absolutely fed off the energy of the crowd, an energy that's been building up for 36 years. 1982 was the last time Peru qualified for a World Cup. Raise your hand if you were alive back then. Now put it back down because people are looking at you funny, wondering why your hand is up. Los Incas were eager to make a statement today, and they didn't waste any time. In the 12th minute, Watford F.C.'s André Carrillo took advantage of a mishandled ball by U.C. Sampdoria's Ivan Strinić, deep in Croatia's side of the field, and he found the back of the net. Pandemonium! People were swinging their Peruvian scarves all around, which I'm sure were made from alpaca. The rest of the first-half was noticeably chippy. Both sides earned a yellow card; Christian Cueva in the 27th minute and Marcelo Brozović in the 29th.
Cuzqueñas for everyone! #Peru scores first. The Incas lead 1-0 in the 12th minute. #PERUvsCROATIA pic.twitter.com/l6Rqh9tDCH

— Lemon City Live (@LemonCityLive) March 24, 2018
The second half was just like the first, but on steroids. It only took Peru three minutes to increase their lead. The play was started by Miguel Trauco in Peru's half. He passed to Carrillo, who sent it back to him with a bit of back heel flair. Trauco moved it forward to Cueva, who turned around and sent a through ball to a running Jefferson Farfan. The former Alianza Lima and FC Schalke 04 forward dribbled to the end line of the goal area and centered to Edison Flores for the goal. The party at Hard Rock Stadium was at a full climax. It would continue until Yoshimar Yotún received a red card in the 74th minute, and it was all defense from there on out. Peru took the W 2-0.
Game. Set. Machu Pichu. @SeleccionPeru earns a well deserved victory over @HNS_CFF. 🇵🇪2-0🇭🇷#PERvsCRO pic.twitter.com/N8eiZqppHO

— Lemon City Live (@LemonCityLive) March 24, 2018
This was the first time Peru had beaten a European team since they defeated Slovakia 2-1 on November 16th, 1999. Next up, Peru faces Iceland on Tuesday, and Croatia looks to bounce back versus Mexico on the same day.
Don't forget to follow us on Twitter, Facebook, and Instagram.
[foogallery id="11247″]
(Visited 572 times, 1 visits today)
About Post Author