Orlando, FL – Not a good night to be a Pride fan. To be fair, it's never a good night when your team falls victim to the classic "trap game" scenario. Such was the case Sunday night in Orlando. Sky Blue FC came into town with the worst record in the league at (0-13-3) and had not won a match all season while sporting a dismal minus-20 goal differential. That's as terribad as it gets. So what happened? Orlando allowed Sky Blue to lead for the first time all season and had to come from behind just to draw the league's worst team.
"I think today's game was probably a snapshot of our season," said Pride Head Coach Tom Sermanni. "We had more than enough possession to win the game, we had, certainly, more than enough chances to win the game, probably hit the woodwork three or four times. We dominated large parts of the game but we just don't put the game away. And then we seem to be again just defensively frail to give up easy opportunities that really shouldn't happen.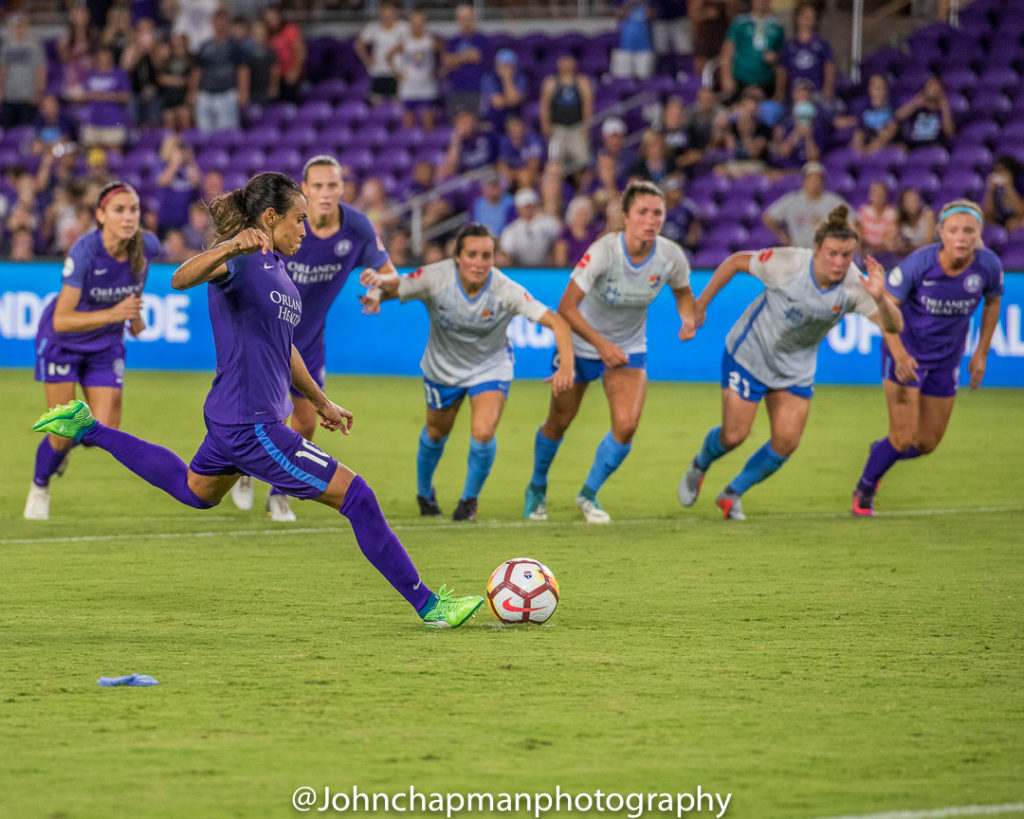 "We could've gotten ourselves out of jail, for lack of a better word. Obviously, with having the penalty in the last minute. But again that's been our season so far. I wish I had an answer. We need to be able to put games to bed when we dominate them so much. But we also need to stop giving up chances that are so easy for our opponents. I'm at a loss to be able to know how to remedy both of those to be honest."
The Pride dominated Sky Blue in possession (58%), shots (4-1), corners (2-0), total passes (403-362), and passing accuracy (83%-71%) but the Pride could do nothing in the final third. The Pride has some of the best-attacking players in women's soccer, but they can't convert chances.
Postgame Press Conference with Tom Sermanni, Dani Weatherholt and Chi Ubogagu following #ORLvNJ https://t.co/LppwoOSsjq

— Orlando Soccer Show (@OrlSoccerShow) August 6, 2018
Sermanni said, "You know, we're still in the hunt. If we win next week against Portland, we're in a really good position. But I don't think we should be in this position. We should be, four, five, six points better off than we are."
The Pride had an opportunity to win the match during second-half stoppage time. Carli Lloyd was sent off with a straight red after a handball in the penalty area and the Pride were awarded a penalty kick. Marta stepped up to take it and the G.O.A.T. was denied. Leaving two huge points on the pitch in the middle of an intense playoff hunt.
So. A lot happened in stoppage time. Lloyd sees red for a handball in the box, Marta takes the PK, Sheridan makes the save. It is still 2–2. 🎢#ORLvNJ | #NWSL | Stream: https://t.co/6j8Kty2LhT pic.twitter.com/MhGZ2tV246

— NWSL (@NWSL) August 6, 2018
The Pride are back in action next Saturday at 7:30 p.m. ET against the Portland Thorns in Orlando City Stadium.
Photo Credit | John Chapman Photography
[envira-gallery id="13602″]
(Visited 300 times, 1 visits today)