If you find yourself reading this, then you already know whats up. Your Miami FC have not lost a match in their last 11 times stepping on a soccer field. The three Lamar Hunt U.S. Open Cup matches included, that is a very impressive feat. Impressive on the result alone to be sure, the true testament of how good this team has been is evident in the quality of soccer they've managed to play while the schedule has been jam packed. An obvious emphasis on the importance in the Open Cup has assured this team doesn't have any lackluster displays. Therefore, remaining atop the NASL table, while advancing to the Round of 16 in the Open Cup has been no simple task.
Miami comes in following the most important game and victory in their very young franchise history. By now, we're all aware of the good ass-spanking Miami handed Orlando City SC at their home; Stefano Pinho pulled out the hat-trick (first in team history) to assure Miami's 3-1 victory and advancement in the Cup. All the excitement involving competing against MLS teams however, should not distract from the fact that Miami FC must keep their own league in sight as they hold on to the lead. Their last NASL match was at FC Edmonton where a late Vincenzo Rennella goal gave Miami the W. Coming into tonight, 5 points separated Miami and Jacksonville Armada (24 and 19 respectively) from the first and second spot atop the NASL.
Well, girls and boys, this shit right here is what we call a statement win. Holy shit! Miami was convincing in this one, and that might be an understatement. This franchise made no effort to shy away from the importance of the game up in Orlando. They did not attempt to downplay it and the seriousness with which they approached the match clearly manifested its way on the field. As physically exhausting as it is to play two games in four days, the daunting task of doing it against an upper-tier MLS team followed by the team gunning for your top spot in your league, and thoroughly beating them 4-0, well, that's just how you fucking make a statement.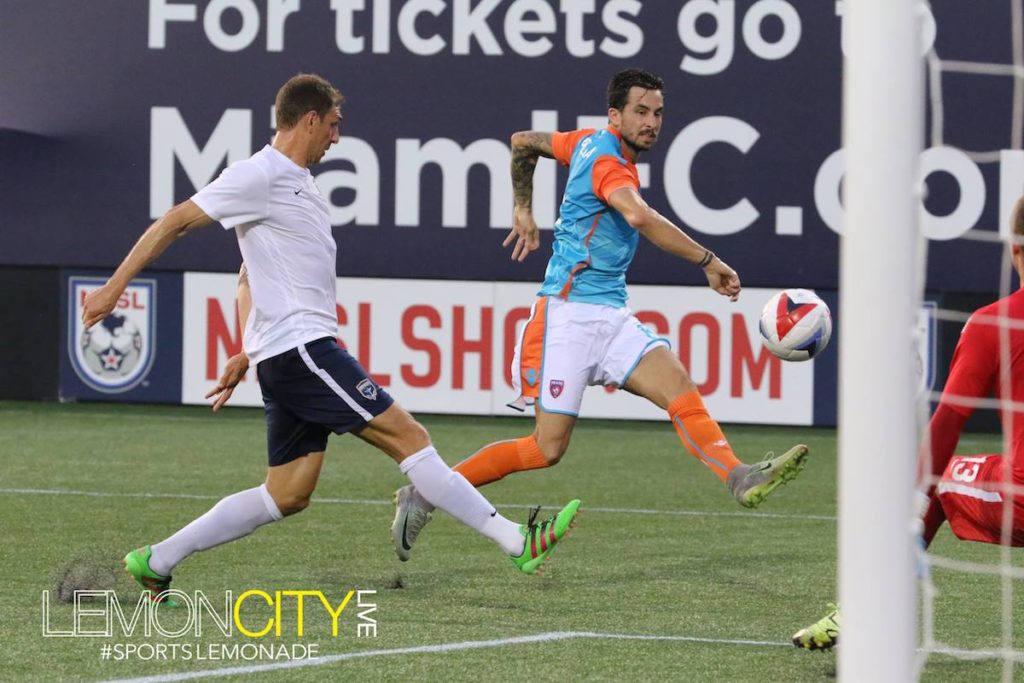 A victory in which you get four goals and get the shutout against the second place team in the league seems impressive enough, but every single one of the goals today were special and of some significance. In the 15th minute, Stefano Pinho kicks in a ball bouncing around inside the box to account for Miami FC's last four goals and all in the last 4 days. However, Rennella was not to be outdone. Miami's #8 finds himself scoring twice in this one, locking up his league-leading 7th goal on the season and the all time lead for Miami FC in the NASL (surpassing Dario Cvitanich). The last goal of the match was in the 85th minute by Ariel Martinez, his first of the season and it was an absolute Golazo. The cuban crowd favorite is a firecracker off the bench, "a spark plug", said his coach. He provides the surge a super-sub should and that is the role Alessandro Nesta has placed him in. His kick-ass, attack-first-ask-questions-later mindset provides a late-game style to be reckoned with. In today's game, it was an off-foot, top-of-the-box strike that found its way in the back of the net for Martinez.
What a week for @stefano_pinho! Scores 3 in Orlando and another tonight! @TheMiamiFC blows past @JaxArmadaFC 3-0, extending their NASL lead! pic.twitter.com/qtgrvHFg3X

— Lemon City Live (@LemonCityLive) June 18, 2017
Miami is now a full 7 points ahead in first place of the NASL. The New York Cosmos now hold down that second spot and they will come to South Florida next Saturday to attempt to slow down the home team. That will once again be an important match right before turning it around to host Atlanta United FC in the Cup, Miami seems to not play any other kind of matches this season.
For a complete photo gallery of this game, please CLICK HERE.
Don't forget to follow us on Twitter, Facebook, and Instagram.
(Visited 118 times, 1 visits today)