If you're a fan of Lemon City Live – and, if you're reading this, I can only assume that you are – then you know what we're all about. We believe in passion and telling the truth, after all, fans are why the games are played. Well, I say that to begin this because the FIU Panthers are really struggling right now. Candidly, they've straight up sucked in the past 2 games. That's not to say there aren't bright spots or even that it is extremely disappointing considering the match-ups; for one, those whiteout uniforms were fucking nice! Both the Indiana Hoosiers and the Maryland Terrapins are part of the Big Ten conference and, while not exactly powerhouses, these are big conference teams whose recruiting and pedigree is a step above.
A 41-14 ass-whooping mercifully ended the night for the Panthers as the 4th quarter clock struck 0:00. The very same night in which they lost their starting QB Alex McGough seconds after throwing a pick 6. The same night in which the Panther defense gave up 477 total yards on a balance of 238 passing and 239 rushing yards. Worrisome on its own, it is particularly disconcerting when the offense couldn't muster up much and winds up having to finish the game with its backup QB, Maurice Alexander.
The running game had its moments for FIU as RB Alex Gardner ran 16 times for 109 yards, although a big chunk came on a big 55 yard run that set up his 5 yard TD. In fact, Gardner himself stated the concerns of an offense that "gets too stagnant at times". Anthony Jones also had 14 attempts for 64 yards. However, following the big dynamic run by Gardner that got FIU on the board and made the score 17-7, the porous defense quickly gave the 7 points back by allowing a 4 play drive culminating in a 45 yard TD. I'll spare the gruesome details by summarizing that it was all downhill from there.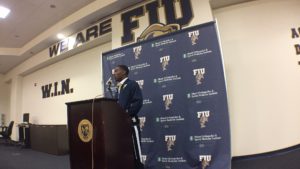 Ok, here's the big takeaway from all this. It wouldn't be fair to simply label the Panthers as shitty based on the first 2 games. Their play on the field has more than left something to be desired, but this is a work in progress. Furthermore, the Hoosiers and Terrapins were clearly the kind of competition that FIU was not ready for and were overwhelming. However, Coach Turner believes better things are ahead and cares not about the opinions of others as he wound down the post-game press conference saying: "we're going to have a good football team… I don't care what anybody else says on the outside".
For a complete photo gallery on this game, please Click Here.
(Visited 213 times, 1 visits today)
About Post Author