Boca Raton, Fl. FAU Stadium – It was 69-31. 69-31! That was the score of the football game – not college basketball – the last time the Florida Atlantic Owls took the field against the North Texas Mean Green. It was a good ol' fashioned spanking by the Owls as their high-powered, high-tempo offense was in mid-season form. The good news for the Mean Green: that game took place in Boca Raton. The bad news for the Mean Green: this game took place in Boca Raton. In other words, they're fucked. The loss at FAU was the only in-conference one for North Texas, who headed into the Conference USA Championship Game with a formidable 9-3 overall record (7-1 C-USA). Florida Atlantic had an identical 9-3 regular season record, but 8-0 in conference play. It bears mentioning that those three losses took place within the first four games of the season. That, of course, was just before The Lane Train went full steam ahead and rolled over the rest of the schedule. Recently, this Owls team has essentially beat the shit out of everyone they've faced and all credit must be given to their new head coach – and my latest man-crush – Lane Kiffin.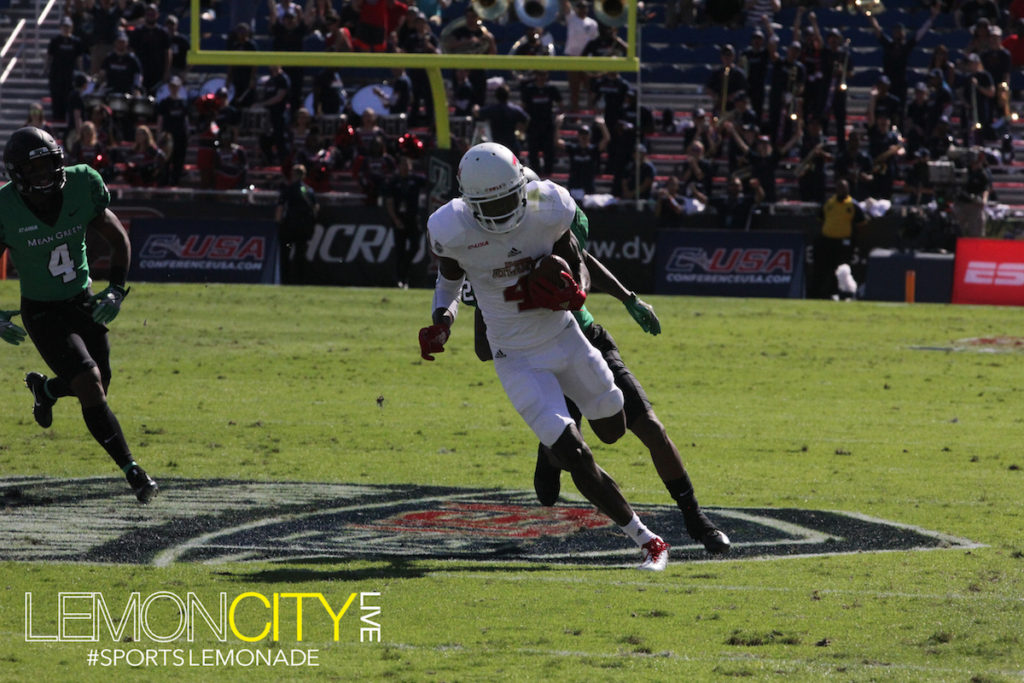 Simply stated, Lane Kiffin can motherfucking coach. More specifically, he can coach the shit out of an offense. How else can you explain a team that won just three games for three straight years under Charlie Partridge turning into conference champions – spoiler alert – over the course of one off-season? This rapid-fire offense has spent the better part of their schedule overwhelming opposite sidelines. Since their 31-34 loss at the Buffalo Bulls in September, the Owls have not participated in a game that resulted in them winning by less than 14 points, and that was the anomaly! Seriously, it's just been impressive. Not to be outdone, Chris Kiffin (otherwise known as Brother Kiffin) has also turned the defensive unit of the Owls around. In fact, both Kiffins have been nominated for high honors in regards to their position; the Maxwell Coach of the Year award for Lane and the Broyles Award for Chris. Indeed, this is not your daddy's FAU.
AND THAT'LL DO IT! YOUR 2017 CONFERENCE USA CHAMPION FLORIDA ATLANTIC OWLS!!!! pic.twitter.com/OhsiZJCFIl

— FAU Football (@FAU_Football) December 2, 2017
Final score: 41-17. The Mean Green were tamed. They were not very "Mean" today. For example, the Docile Green finally got on the board today with just over 5 minutes left in the 3rd quarter, and it was a Field Goal. Meanwhile, the Owls scored at will. This game was 27-0 at halftime, and trust me, it wasn't even that close. A couple of drives that stalled out near the goal line notwithstanding, FAU had the Sedated Green backpedaling all game. The fast pace was too much to handle as the stars shined bright today for the home team. Quarterback Jason Driskel was out there dropping dimes like he was stuffing his piggy bank. The redshirt junior had it going on (15-27, 269 yds, 1 TD, also rushed for 13  yards) and the Mediocre Green were no match. His offense really opened up and no one deserves more credit for that than Devin "Motor" Singletary. The sophomore running back sensation continued his amazing season today on his biggest stage yet. The man already owns the single-season rushing record for his school, but that's clearly not enough. He rushed for 164 yards today with 3 TDs and even had the audacity to complete a pass for 12 yards; that's just disrespectful. Kalib Woods is the kind of wide receiver that clearly stands out above the rest when he's running around out there. A talent we had not had the pleasure of enjoying for most of the season, Woods started making a significant difference the moment he got back on the field. Today, his day looked like this: 6 catches, 208 yards and 1 TD. Holy shit! No wonder he was the C-USA Championship Game MVP. The Polite Green just weren't mean enough to keep up.
Exclusive look at @Lane_Kiffin figuring out how to run up the score on @MeanGreenFB. Another TD & @FAU_Football now lead the @ConferenceUSA championship game 41-17 with 5:27 left pic.twitter.com/IwVytDcoSe

— Lemon City Live (@LemonCityLive) December 2, 2017
FAU becomes conference champions for the first time since 2007. The game was absolutely one-sided and that was even with a would-be 68-yard run-away TD called back near the end due to the old "drop it before you cross the goal line" showboating. John Franklin III desperately wanted that SportsCenter Not Top 10 moment. This one had it all. Kiffin got the blue Gatorade bath to celebrate a C-USA championship win and the fact that he won more games this year than Partridge ever did in his entire tenure; season's not even over. Does that say more about Kiffin or that bum Partridge? I keep calling Partridge that, I don't even know the guy. But when you go 3-9 for three straight seasons, that's precisely what you get. Anyway, just sit back and enjoy this if you belong to FAU nation. A presumably prestigious bowl game awaits and the program looks like it's going places. God forbid Kiffin ends up taking a flight to Tallahassee or Knoxville, this is a time to party. Rejoice!
For more pictures from this game, please CLICK HERE.
Don't forget to follow us on Twitter, Facebook, and Instagram. 
(Visited 150 times, 1 visits today)