How lucky are we? Honestly, did we ever think we would see this again? Venus Williams, Rafael Nadal, Roger Federer. Continued excellence has a way of being taken for granted. It's natural really, for the audience at least, but it is also unacceptable. Federer and Nadal hold all-time status even if we only took into account their 18 and 14 major titles respectively; impressive as it is, the mention of a single number does not an entire career encompass. Venus, along with her sister Serena, might very well be the most synonymous name with Women's Tennis and quite possibly the most significant athlete relative to their respective sport. The amazing thing is that I never thought for a second – and I know damn well I'm not alone – that I would enjoy their special type of excellence, at its highest level, in what is now the present. Tennis has a particular form of exposure, highlighting the lows in a game that spotlights the singular athlete, unforgiving with its competition and uphill climb to the top, let alone a return to it. The fall from grace is unusually noticeable, but the surprising nature of a recovery is even more so. Today's tennis features the stars from yesterday and we should consider ourselves extremely fortuitous to enjoy their competitive play on the court.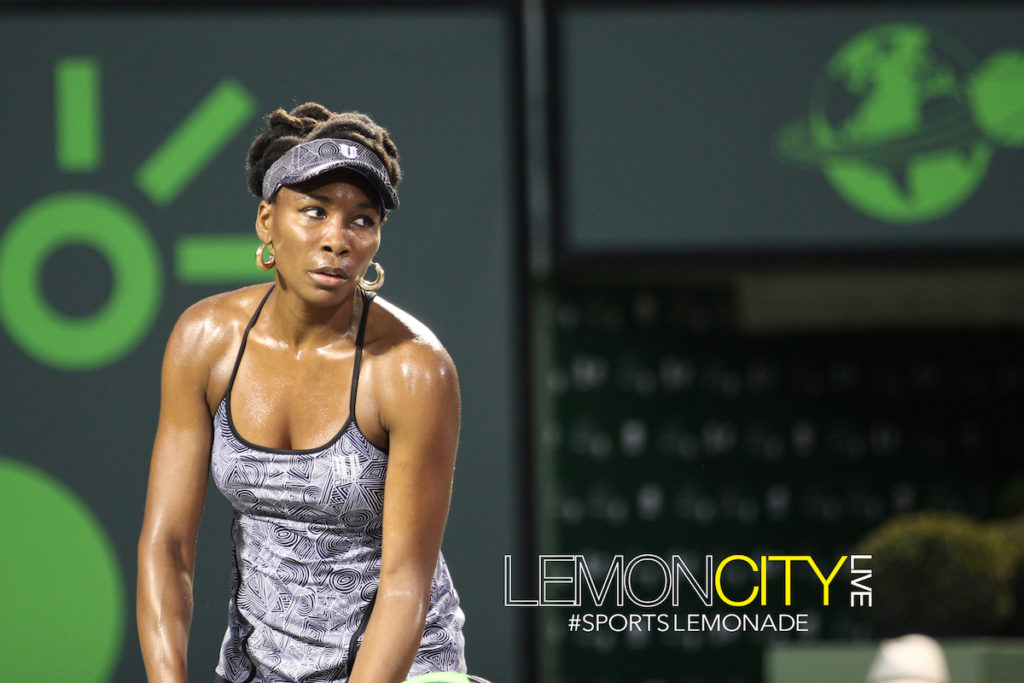 Venus Williams, at the age of 36 and coming off her first Grand Slam final in 8 years, is experiencing quite the career renaissance. I specifically remember asking the "why doesn't she just retire?" question several times over the past few years. I want to be clear about something, I am not, nor will I ever be, as good at anything in my life as Venus is at Tennis. Likewise, nothing in my life is as consuming. Therefore, shame on me for even thinking that she should call it a career, or for applying my ignorant sensibilities on what the accurate time to walk away is/should be. However, I say again, I know damn well I was not alone in thinking so. It's tough to watch the flying superhero grounded. Success and popularity come at a hefty price, expectations follow. It dawned on me while watching Venus take out the world number 1 (Angelique Kerber) in the quarter-finals of the Miami Open on Wednesday night, the evolution of her game has been nothing short of incredible. Seriously, Venus is like a gazelle out there, legs for days in a career that has displayed her genetic advantages. Known as a baseline player with the ability to rocket forehands and even turn her defensive backhands into offense, Venus has come a long way from her once-upon-a-time, overwhelming athleticism that frustrated the shit out of her opponents. She used to roam the baseline with her long strides and no shot was out of reach, allowing her to extend a rally long enough to overwhelm her competitor with power. Things are different now, her game is wiser and smoother. That's not to say elements of her younger days are not present, but she has managed to more than make up for her age and naturally decreasing athleticism with strategic court movement, defensive anticipation/awareness, and pinpoint shot placement. At one point, with the second set in its infant stage, Venus had 16/25 net points compared to Kerber's 2/3, an overwhelming difference. She eliminated the world number one in straight sets (7-5, 6-3) and qualified for the semis. A stunning result considering that she dropped serve to start the match. How does she keep doing it?! Like a fine wine, Venus has matured well with age, and like a fine wine, I love it and want some more of it.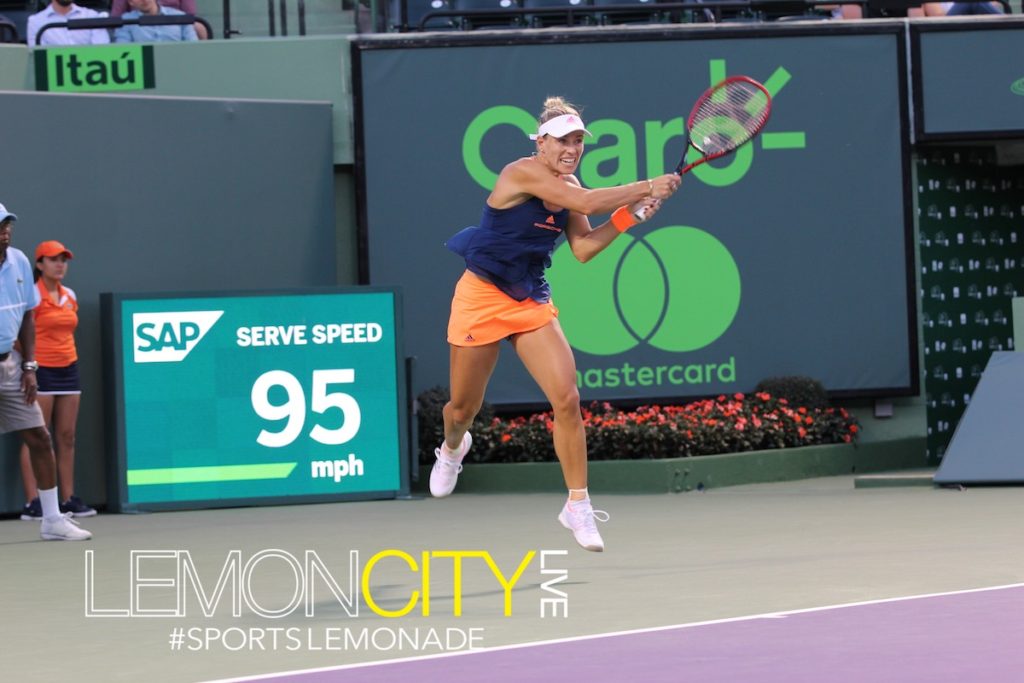 Full disclosure: Rafael Nadal is my favorite tennis player of all time. Truth is, I would much rather root for an american player, but the sad state of affairs in our country's men's tennis has forced me to seek entertainment beyond our borders. Much like anything else, my age and time are huge factors in the matter. As I became exposed to the sport and fell in love with it, the Spaniard they called "Rafa" was the young, exuberant man-child whose playing style was so much fun to watch. The tireless five-set matches, the sleeveless shirts and capri shorts get-ups, the passionate fist-pumps. Nadal was and is unlike any other tennis player. Unlike Venus, Nadal's game has not really gone through much transformation. Just like Venus, his impressive rise back to the top has included overcoming age, countless injuries and health conditions. However, Nadal was the one who would not be able to overcome it. He was supposed to be the tennis player whose game could not last, whose abrasive and physical style of play would always be the impending alarm clock on his predictably shorter career lifespan. Well, fuck all that! The nearly-31-year-old had us all concerned for a while there, but he looks so good and fresh on the court now. Thursday night, Nadal made easy work of Jack Sock (6-2, 6-3) to reach the semi-finals of the Miami Open. On their way to yet another historic rematch at this year's Australian Open final, both Nadal and Federer referenced a story from a few months prior at the opening of Nadal's Mallorca Tennis academy. They recalled being so injured and physically unable to even play an exhibition match for charity that they resorted to hitting a few shots and playing table tennis instead. Both will participate in semi-finals on Friday, March 31st, and we might once again be fortunate enough to enjoy another chapter in this historic rivalry.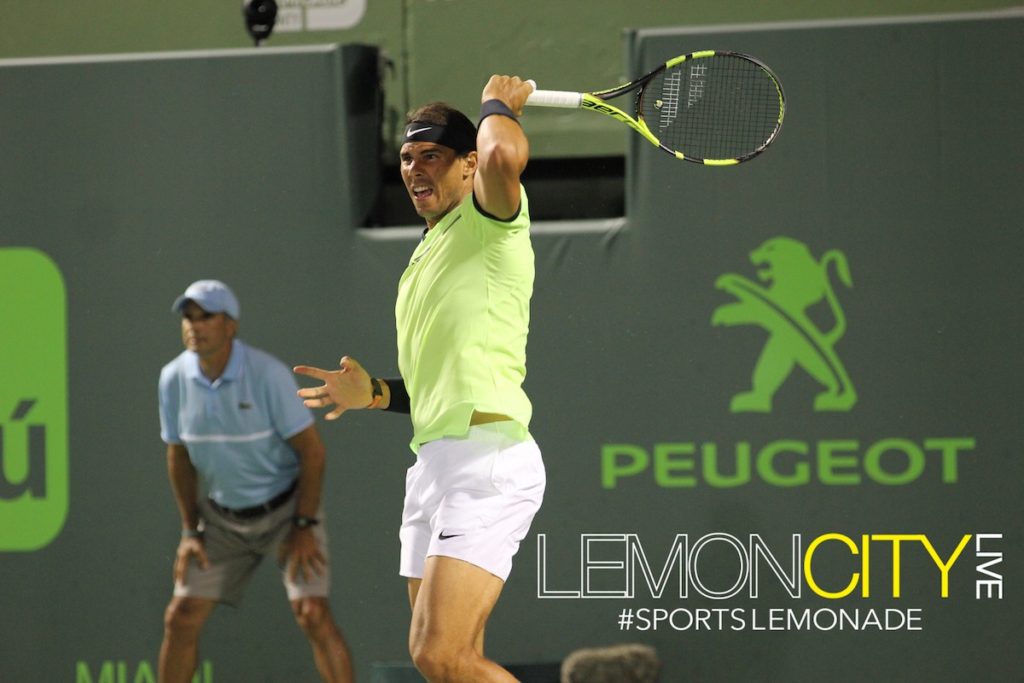 The Miami Open offers a uniquely breath-taking experience the likes of which few other events can. From the beautiful Crandon Park Tennis Center, the Key Biscayne Islands surrounded by the tropical waters that accent downtown's skyline rising in the distance, the outstanding tennis feels more like an added bonus when considering the overall production. However, on this particular stage, in this precise age along the evergreen Tennis timeline, even the bright city lights and festivities pale in comparison to the participants of the Open. They provided us a second chance to marvel at their greatness. I only hope we are all as aware and appreciative of it as we should be, it can't possibly last forever. 
Two nightcap quarter-finals, two straight set victories for two absolute legends #MiamiOpen pic.twitter.com/XX1DFPi9ZQ

— Lemon City Live (@LemonCityLive) March 30, 2017
For more pictures from this match, (Venus) please CLICK HERE.
For more pictures from this match, (Nadal) please CLICK HERE.
Don't forget to follow us on Twitter, Facebook, and Instagram.
(Visited 158 times, 1 visits today)
About Post Author