Lemon City Live strives to promote the fandom, passion and voice of the fan. We happily extend our platform to anyone looking to express themselves and greatly appreciate the following contribution.
Written by – Gabriel Garcia

Well, that was a close one. But then again, aren't they always? After a dismal 1-4 start which had many fans thinking the season was over, the Dolphins have found a way to become a fourth quarter team again. In other words, they've become clutch. We've seen it throughout this red hot 6 game winning streak, with the latest example of an abruptly resurgent Colin Kaepernick being stopped just at the 2 yard line. Talk about a nail biter. What we've seen is that whenever the odds were stacked against us and our winning streak seemed to be at an end, one of our players has stepped up. Last week, it was Ryan Tannehill against the L.A. Rams; this week, he threw for 285 yards, 3 touchdowns and, very importantly, no turnovers. This time it was Ndamukong Suh, who is a dominant force from our defense. So is it finally time to start thinking playoffs? Not so fast, Fins fans. At this point in the season, I had the Miami Dolphins at exactly 7-4. Granted, I pegged them to beat the Patriots in Week 2, the late game rally was just short of it, and the Week 5 match-up against Tennessee was utterly off, but hey, I'll take the accuracy on the record alone.  With that said, after the game against the San Francisco 49ers the road for the playoffs will become increasingly difficult.

Our next opponent is the tied-for-first-place, AFC-North-leading Baltimore Ravens. The last time these two faced one another was on our home turf in which two deflected interceptions (that led to touchdowns) helped secure a rather close 15-13 victory against Matt Schaub. The victory snapped a 5 game losing streak against the Ravens dating back to 2008. After this game, we face the Arizona Cardinals which is a very winnable match-up, but then we head up north to face our division rivals, the New York Jets and Buffalo Bills… in December. The Jets' season is over, but that won't stop them from playing spoiler against us, especially in MetLife Stadium. As for the Bills, they are right behind us and, given their remaining schedule, they may or may not be in the running by the time December 24th rolls around. Contender or spoiler, you can count on Rex Ryan and company to give us a game.
Furthermore, the season finale is a home game against our favorite team of all, the New England Patriots. With any luck they will have already clinched a bye for the playoffs and rest their starters, Tom Brady included. By then, if the game is must win – I have a sneaky suspicion it will be – we can squeeze in a victory. As I said, it may be a bit early for playoff talk.
It's worth noting, going back to my predictions on the schedule, I had us finishing at 8-8 and on the eve of beginning a 4 game skid. Man, I hope I am wrong on this part of the schedule; if by some bad-sense-of-humor fate I am proven right… mea culpa. The team is being effective enough on all sides of the ball. Tannehill has stepped up. He has gone from game manager to a legit Top 10 quarterback, especially in Week 12 where the running game was sluggish. Jay Ajayi had 18 carries for 45 yards. He did have one touchdown, but he was averaging 2.5 yards a carry with the total rushing tallying at just 95 yards. The O-line has been impressive giving the offense, both the pass attack and ground game, a chance to put up points. Fun fact: This was their fourth game this season to hit up at least 30 points. On the other side, we're ranked 10th against the pass, 12th in sacks, tied for 8th in interceptions and right in the middle in points allowed.
However, the team definitely has its weaknesses. We are near the bottom against the rush. The Ravens meanwhile, sit at the top, meaning Tannehill will have to step up. And then there's dealing with injuries to Branden Albert, Mike Pouncey, and Laremy Tunsil, to name a few. Although Albert and Tunsil seem likely to return for Baltimore, this will be another great test for the team. Three of our last five games are on the road with just as many of those games against division rivals. Currently, we sit at 2-1 against the AFC East which is a far cry from last year's 1-5 divisional record, but considering these remaining divisional games count as double, they will likely be make or break. Heck, December will be our make or break month. The road is difficult, but certainly not impossible with the way our scrappy team has played. Fourth-quarter comebacks have not been a part of this team's character for quite a while and despite the likelihood our winning streak will eventually snap, our hopes for the playoffs remain alive.
If the season ended today we would be in the playoffs and for those of you dreading December, we have dominated the month 8 times in our history, the last time in 2008 where we went 4-0 to finish 11-5. Call me a cautious optimist, but with our wide array of weapons on offense like Devante Parker, Kenny Stills, Jay Ajayi, Tannehill and just maybe Dion Sims, along with our set pieces on defense like Suh, Cameron Wake and Byron Maxwell, if we can beat the Ravens at their house the playoff conversation can finally begin. And if we take care of business against Arizona, that's when we can really be talking about playoffs with a lot of confidence. A LOT of confidence!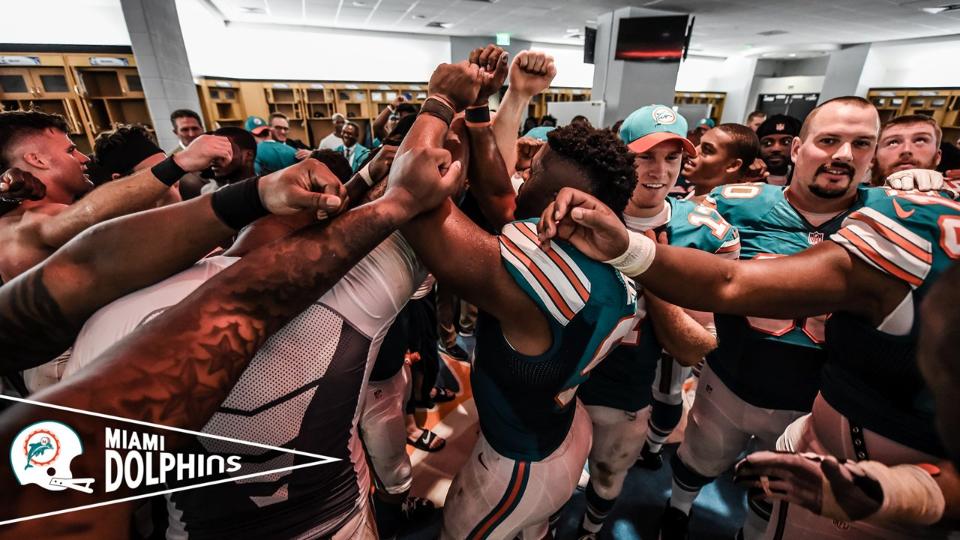 (Visited 110 times, 1 visits today)