The Miami Dolphins have had exactly one claim to fame in their entire existence. The organization tightly hangs on to the past as the fanbase struggles with their present. The Perfect 72 season is both a source of pride and frustration for the followers of Miami's professional football team. It is undoubtedly a matter that should be honored as the excellence of once-upon-a-time, but inevitably, it ends up seeming like a weak reminder of the glory days to mask the misery of today. Meanwhile, the 45 years since have left so much to be desired. If Miami is in fact your favorite football team, if indeed you love the Dolphins, then you fucking hate the Dolphins.
To be clear, there is nothing wrong with an organization celebrating its best moments. The Dolphins are allowed to make a big deal of a team that managed to go through an entire NFL season without losing. They're allowed to roll out Don Shula, Bob Griese, and Mercury Morris year after year for yet another anniversary celebration of the same old shit. They're allowed to do all this and I'm allowed to be unreasonably annoyed by it.
The Miami Dolphins came into existence in 1966. In 1970, they began their time in the NFL and promptly spent 1971, 72, and 73 being fixtures in the Super Bowl. After losing in 71, the Dolphins had their Perfect 72 – ever heard of it? – and went on to win the 73 Super Bowl as well. No doubt, that is a run any franchise should be proud of.
Getting those throwback unis ready for Monday Night Football!

🔥🔥🔥🔥🔥🔥 pic.twitter.com/J7zPU2EnHd

— Miami Dolphins (@MiamiDolphins) December 9, 2017
In 1983, with the 27th pick in the first round of the NFL Draft, the Dolphins selected Dan Marino out of Pitt. Thus began the Marino era. Of course, legend around these parts, Marino's story is well documented. A rookie saving the season of the 83 Dolphins and leading them to the playoffs. The following year, a young quarterback in his first full season winning the first 11 games and making the Super Bowl. While Marino never actually got his ring or even made it back to the title game, the Dolphins were perennial winners while he was under center. Comparable to baseball's Atlanta Braves, the Fins were always considered contenders, even if they never actually won anything. Following Marino's retirement after the 1999 season, Miami fans did plenty of bitching when Jay Fiedler took over as his replacement, but boy, they did not know how good they had it. Need I even say it? It's been all downhill from there.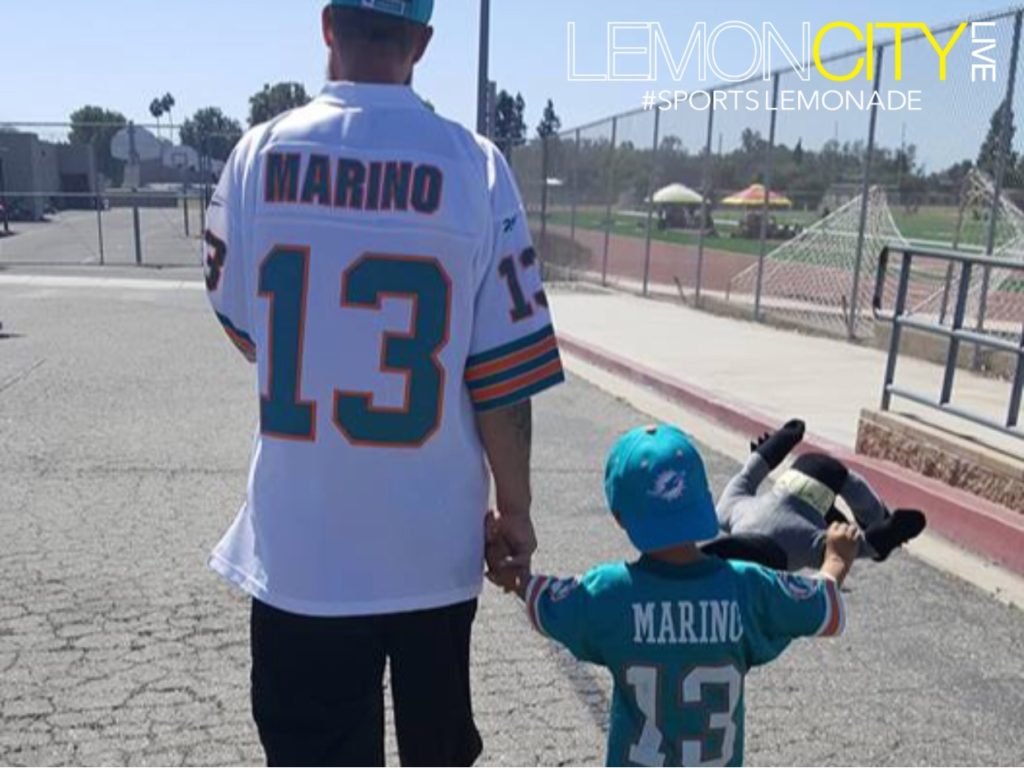 All right, let's get real. It is the year 2017 and the Miami Dolphins have been about as frustrating a franchise to root for as any for the better part of two decades; or should I say the worst part? Two bullshit playoff appearances – yeah, I said it – following the 2008 and 2016 seasons have been the only bright spots for this franchise. However, even those two season's never provided confidence to the rational, non-delusional fanbase that this team was to do some serious winning. Every other year has been nearly as miserable as the next. A 1-15 season included, the Dolphins have given me, someone who began rooting for them post-Marino, not nearly enough to justify the shit I've put up with.
I remember when my Miami football fandom was in its infancy. I remember rooting for a defense comprised of Jason Taylor, Zach Thomas, Brock Marion, Sam Madison, Patrick Surtain; it was enough to compensate for the lack of offense. I remember the positivity with which people spoke about my team, the number 13 jerseys spread out in visiting stadiums. Man, were we spoiled. Every season seemed to start with a winning streak, one that placed us in a position to reach the playoffs. Well, well, well. Look at us now. If this were the NCAA, Miami would have been slapped with the "lack of institutional control" tag long ago and gotten enough sanctions to close this bitch down. It's numbing, really. "Hope for the best, expect the worst"; words that will be the epitaph of every poor son-of-a-bitch unlucky enough to consider themselves a "Dolfan".
Alas, this season has been but another shitty album in this endless Miami discography. While it seems like the division rival New England Patriots have been playing their greatest hits, the Dolphins have spent 17 years trying to figure out their sound. The revolving door of front office personnel and coaches, the illusive guy under center they've yet to find, the swiss-cheese offensive line that don't want to see their quarterback standing upright no matter how many first-round picks or millions of dollars you throw at them. Ah, yes. I've been listening to this soul-crushing music for about as long as my Dolphins radio has been on. And oh, what I would give for the sweet rhythm of an AFC Championship or even a divisonal playoff game. We'll keep tuning in, however, even if our ears bleed.
The Lemon Drop is a weekly segment entertaining whatever the hell comes to the mind of Enrique Sierra, Jr. (Hipster Rick). Simply a sports lover who has been waiting for the glory days to circle back around so I no longer have to hear about 1972. Please click back next week for more and feel free to comment or engage us through Twitter, Facebook, and Instagram.
(Visited 109 times, 1 visits today)
About Post Author