Miami Gardens, FL – I know most of you Miami Dolphins fans aren't feeling good about your team right now, but it's December and Miami still has a chance at the playoffs! And right now you're thinking, "Yeah, dude… we know. That's where the Fins always are in December and they always let me down!" And if you think that way, you're right. Miami can't seem to take a step forward or backward. They sort of just stand there. However, tanking isn't the right way to build in the NFL.
A good front office thinks more than a season ahead. The problem with Miami is that the front office is unorganized, so how can you expect the product on the field to be any better? You have Mike Tannenbaum – Executive Vice President of Football Operation, Chris Grier – General Manager, and Head Coach Adam Gase, and they all have player personnel decision-making power. How does that make any sense? How is anyone held accountable when bad decisions are made?
Dolphins Live: Coach Gase meets with the media. https://t.co/Bw4B63tVuh

— Miami Dolphins (@MiamiDolphins) December 2, 2018
Today, Miami made up some ground against the Colts, who they lost to last week after a blowing a lead in Indy. The Fins faced the dumpster fire Buffalo Bills. They're one of the few NFL franchises worse off than Miami right now. Miami threw on those sweet throwback uniforms, and they always play well when wearing those. I'm not a superstitious guy, not even a little-stitious, so on our podcast, I always roll my eyes when my co-host, Fresh says anything about the Heat performing poorly with the Vice unis. However, I always agree about the Fins playing well with these throwbacks. Maybe it's luck. Maybe it's a confidence thing. Maybe none of that matters, but it sure is nice to see the Fins get a win, especially against an AFC East rival in the Buffalo Bills.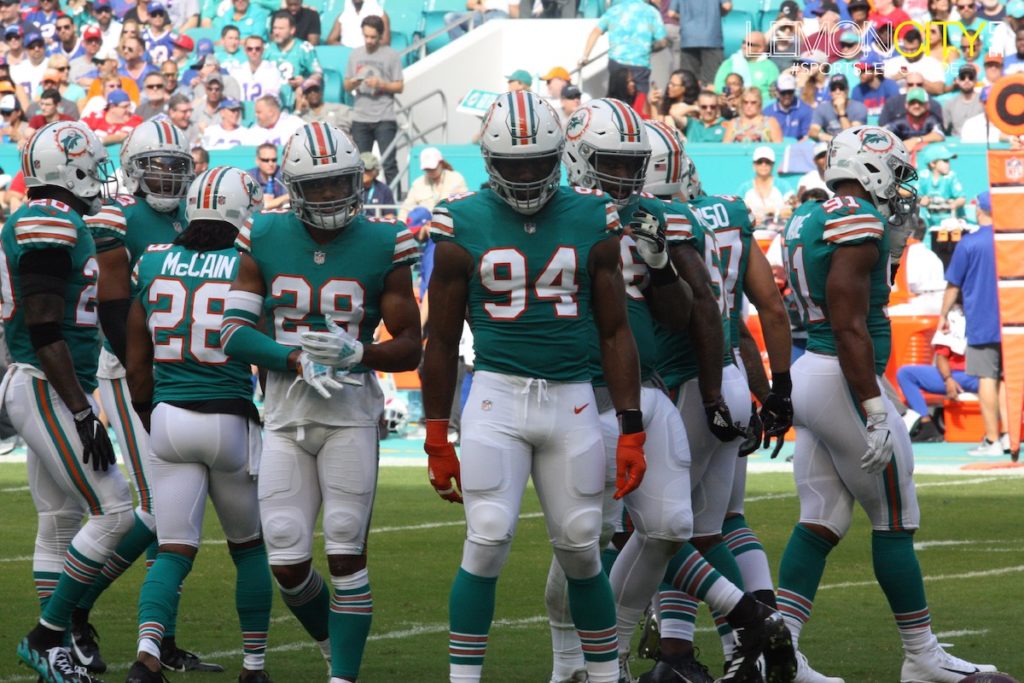 Before the game, the Miami Dolphins added six former players to the team's Walk of Fame: safety Dick Anderson, wide receiver Mark Clayton, wide receiver Mark Duper, tackle Jon Giesler, linebacker John Offerdahl and defensive end/linebacker Jason Taylor. The Walk of Fame, located at Joe Robbie Alumni Plaza, which includes a statue of Dolphins founder Joe Robbie, was established in 2011 as a way to recognize individuals who played significant roles in team history. The six newest honorees will be the 25th-30th former Fins to earn the prestigious award. The former players were also honored at halftime. Maybe some greatness rubs off and is restored to Miami's once great organization.
Like a true Fins fan, I was excited when Miami scored quickly on their first drive off an 18-yard Ryan Tannehill pass to DeVante Parker. Buffalo came back to potentially tie it up but missed their extra-point. Before the half, Tanne dumped a 3-yarder to Kenyan Drake for Miami's 2nd TD of the day. Miami led 14-6. Buffalo scored a field goal on their first drive of the 2nd half, followed by a touchdown with a 2-point conversion to take a 17-14 lead. But Miami's wearing those throwback uni's, so no matter how hard they tried, they weren't going to lose this game. Miami followed up on Buffalo's TD with one of their own, and it would prove to be the deciding score of the game. 21-17!
This is what #Fins fans have been asking for! More TD passes to @KSTiLLS! He scores off a 13-yard TD pass from @ryantannehill1! @MiamiDolphins lead 21-17!#FinsUp pic.twitter.com/cnXLmHwo5U

— Lemon City Live (@LemonCityLive) December 2, 2018
Tanne found Kenny Stills in double coverage and Kenny was able to come away with it in the corner of the end zone. Hell of a catch! Even then, Buffalo could've stolen this game. Lucky for Fins fans, Buffalo is terrible. However, Josh Allen looks damn good. They call him El Pinguino on Calle 8 because the kid's got happy feet. No one really calls him that, but they should. The kid scrambles better than whatever bougie place you have brunch at makes your eggs. On their next drive, Allen rushed twice for 25 and 26 yards respectively, leading the Bills to field goal range, but Miami's defense would step up, and force the Bills into a 55-yard field goal attempt that was shanked wide-left by Stephen Hauschka. After forcing Miami to punt, Buffalo would have another drive to try and win. They started on their own 10-yard line and moved the ball all the way to Miami's 30-yard line. However, in that final series, the last three plays would all be incomplete. Allen isn't exactly the most accurate passer, but all those passes were catchable, especially that final pass to a wide-open Charles Clay, in the end zone.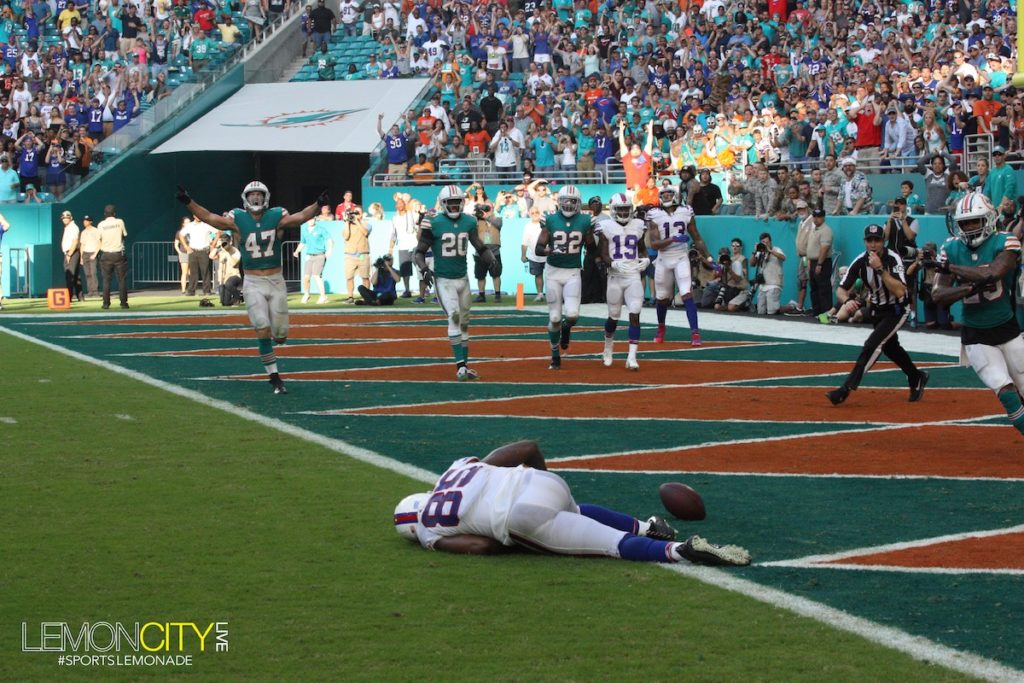 I wouldn't say anyone really won this game. One team just screwed it up more than the other, and Miami benefitted from Buffalo's ability to step on their own feet. Miami plays the Bills once more, closing out the season in Buffalo. The Dolphins are the 7th seed with the Ravens one game ahead of them. Next up, Miami hosts the New England Patriots on Sunday, December 9th at 1 pm. Miami improves to 5-1 at home this season, 6-6 overall.
Final from @HardRockStadium!!#FinsUp pic.twitter.com/3T8XKQu1e6

— Miami Dolphins (@MiamiDolphins) December 2, 2018
[envira-gallery id="14993″]
(Visited 302 times, 1 visits today)
About Post Author