Miami Gardens, FL – With the actual Thanksgiving holiday coming up soon, the Miami Dolphins took it upon themselves to give back to the community by providing a massive dinner for over 300 people this past Tuesday at Hard Rock Stadium.
Located at the Miami Grand Prix Paddock Club, the Fins Thanksgiving Dinner hosted more than 300 people, including local families from over 50 organizations, which includes Football UNITES, the City of Miami Gardens, and local faith organizations.
"We are proud to continue the Dolphins' long-held tradition of bringing people together around the Thanksgiving holiday, while supporting those who may be experiencing food insecurity or financial strain and positively impacting the South Florida community," Said Kim Miller, Dolphins Vice President of Community Affairs.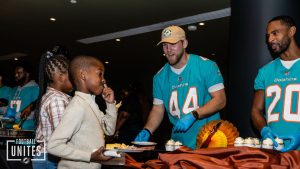 "We believe every family should have the opportunity to gather over a great meal, especially on Thanksgiving. With the incredible support of our players, staff and Football UNITES™ community partners, we are grateful to be able to provide that opportunity as we kick off the holiday season together."
Numerous members of the Dolphins staff were in attendance, including their cheerleaders. But 20 Dolphins players took part in serving food, including Bradley Chubb, Chase Claypool, Jevon Holland, Raheem Mostert, Emmanuel Ogbah, Jaelan Phillips, Skyler Thompson, and Cedrick Wilson Jr.
The meal on tap featured both ham and turkey, along with mac and cheese, yams, green beans, and corn bread from Troy's Barbecue – traditional Thanksgiving sides. In addition, Sugarbus provided cupcakes for dessert, ensuring a full meal. Afterwards, there were numerous activities to take part in, including arts and crafts, a photo booth, and cookie decorating.
At the end of the event, Miami's players had one last surprise in store – a turkey and other necessities for all all families to take home for their actual Thanksgiving Day meals, courtesy of Goya.
Catch the Dolphins this Sunday at 1pm as they host the Las Vegas Raiders.
(Visited 48 times, 1 visits today)