---
Miami Gardens, FL – In unison with the return of the NFL season in August and September, the Miami Dolphins looked to bring smiles to faces on and off the field. Partnering with Baptist Health, the Dolphins set out to surprise three high school football programs in South Florida with brand-new equipment courtesy of the Junior Dolphins Fall Donations. The varsity teams located in Miami-Dade and Palm Beach County were given all sorts of gear, including cleats and training sneakers in aqua and orange.
It all began at American Senior High School on Tuesday, August 22nd. The Dolphins surprised the Patriots with numerous supplies, including defensive blocking sleds and football pads. They then had representatives engage with the young athletes and went over the importance of preventing injuries in the sport.
"We're extremely grateful for our partnership with Baptist Health as it is fundamental to the impact we strive to make in supporting high school football in South Florida and its student-athletes," said Kim Miller, the  Miami Dolphins Vice President of Community Affairs.  "This year's donations focused on providing athletes with adequate training equipment and sneakers, in order to elevate training and promote injury prevention."
The series continued on Thursday, September 7th as the Fins stopped by Lake Worth Community High School, and supplied the Trojans with a zone football lineman chute apparatus, among other equipment.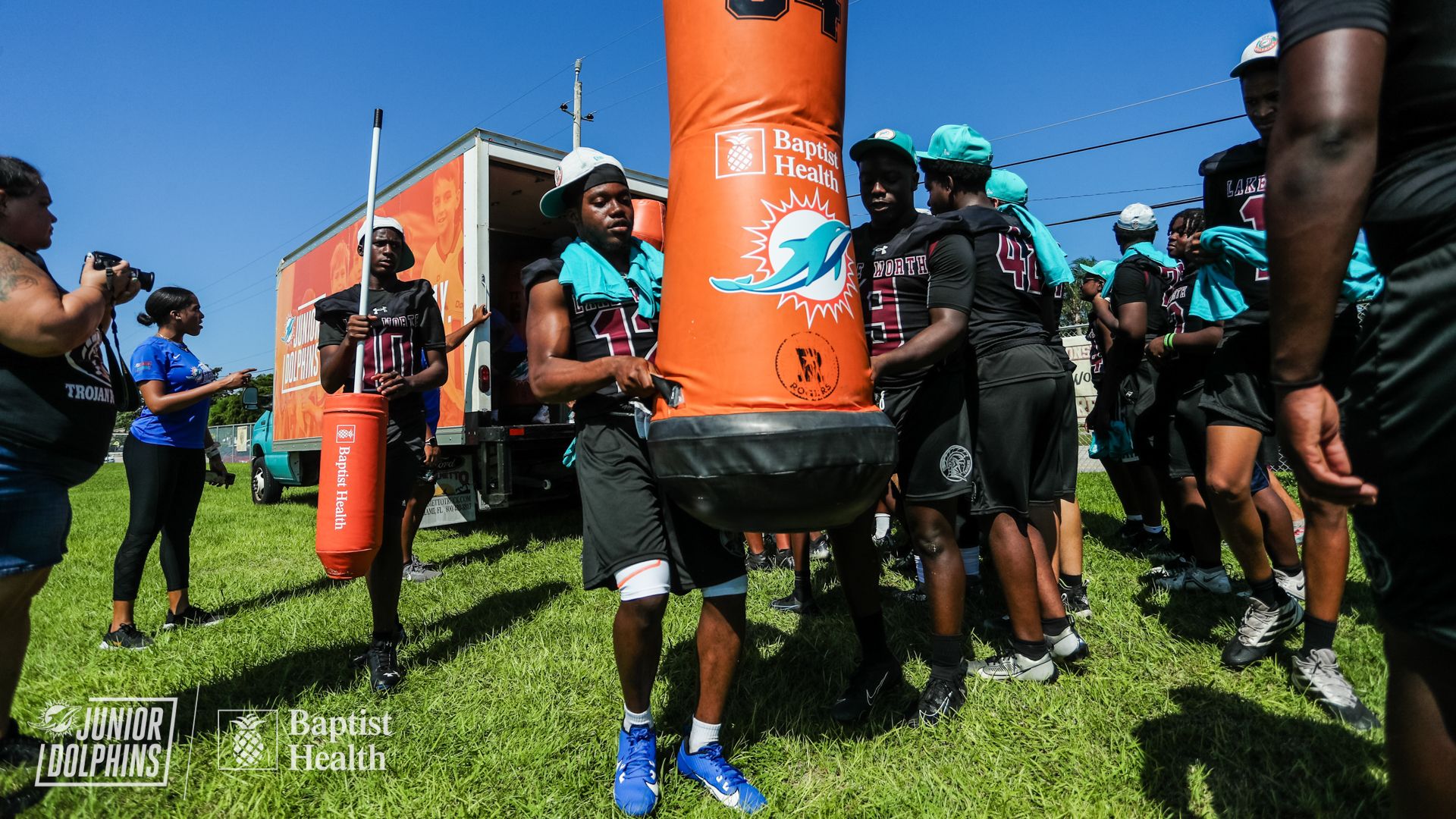 Finally, the Junior Dolphins Fall Donations wrapped up at South Dade Senior High School on September 12th. The Buccaneers were given guardian helmets, Titan tackle dummies, and footwear.
Since its inception, the Junior Dolphins program has supplied more than 15,000 high school football players with equipment in an attempt to "support and empower the local athletes while expanding the sport of football."
Catch the 6-2 Dolphins as they take on the 6-2 Kansas City Chiefs in Frankfurt, Germany on Sunday, November 5th at 9:30 a.m.
📸 Credit: Miami Dolphins
(Visited 9 times, 1 visits today)