---
MIAMI, FL – In partnership with CITY Furniture, the Miami Dolphins were able to host its annual Delivering Hope event at Hard Rock Stadium back on June 16th, all in the name of surprising over 100 children with brand new beds for them and their families.
As part of the Football UNITES program for the Dolphins, local organizations and partners collaborated for a full evening of activities, including a bunch of interactive games, a behind-the-scenes tour of Hard Rock Stadium and the locker room, and a dinner to wrap it all up.
At the end of the event, Jerome Baker, Emmanuel Ogbah, Duke Riley, and Durham Smythe worked with the CEO of CITY Furniture, Andrew Koenig, to supply the children with brand new beds, complete with Dolphins-themed pillows, blankets, and whatnot.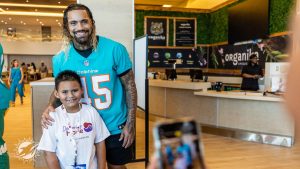 "We are proud to once again partner with the Miami Dolphins to support Delivering Hope for the sixth consecutive year," said Koenig. "At CITY Furniture, we believe in making a positive impact in the communities we serve, and providing brand-new beds to over 100 children is a meaningful way to bring comfort and support to those in need."
The children who received beds were part of families from the Lotus House Women's Shelter, HANDY/HOMES, the Mexican American Council, the Seeking Education Empowers Knowledge Foundation and SOS Children's Villages Florida.
"With the new school year around the corner, our unified vision for Delivering Hope is to support our local families and their children and bring them the comfort of a good night's sleep so they can focus on what's important – their education and development for the years ahead," said RaShauna Hamilton, the Miami Dolphins Senior Director of Community Relations and Youth Programs.
This is now the sixth year that the Dolphins and CITY Furniture have partnered up for the Delivering Hope Program. In total, they have given out more than 600 beds.
(Visited 52 times, 1 visits today)