---
Miami Gardens, FL – With the assistance of local officials, community partners, local media, restaurant partners, and other members of South Florida, the Miami Dolphins hosted the inaugural Football UNITES Jason Jenkins Day of Service on Monday, October 30th.
The event was an effort to honor the life and legacy left behind by Jenkins, who was the late senior vice president of communications and community affairs, who passed away in August of last year. Jenkins had served the local community for 14 years, helped create the Football UNITES program, and was an active member of Dolphins Challenge Cancer.
In total, there were more than 300 volunteers who participated, including members of the Formula 1 Miami Grand Prix, Hard Rock Stadium, Miami Open, and the Dolphins. In one day, they spent 900 total hours working on nine community projects all over Miami-Dade and Broward County, on what would have been Jenkins' 49th birthday.
The impact these groups made is estimated to impact over 22,000 lives in the local communities.
Here's a rundown of what was accomplished in one day:
Adopt-a-Dune Project – At the Dr. Von D. Mizell-Eula Johnson State Park in Dania Beach, more than 50 members planted more than 1,000 dunes in an effort to restore and protect the native habitat wildlife around the coastline.
Broward Rescue Mission –  10 members served lunch to over 45 formerly homeless residents at the Broward Rescue Mission in Hollywood.
Junior Dolphins Mini Football Clinic –  Tom Garfinkel (Vice Chairman of the Dolphins) along with Elizabeth Jenkins (Wife of Jason Jenkins) joined over 25 volunteers as the Junior Dolphins hosted a mini football clinic at Excel Kids Academy in Miami Gardens.
Feeding South Florida – Over 100 volunteers packaged meal boxes at Feeding South Florida. Local South Florida media members also chipped in as they packaged a total of 24,000 pounds of food.
Keep Miami Gardens Beautiful –  Kim Miller (Dolphins VP of Community Affairs) joined over 30 volunteers to participate in a clean-up project in Miami Gardens. They collected over 350 pounds of litter around Snake Creek.
Miami Rescue Mission –  15 members of the organizations served lunch to formerly homeless residents at the Miami Rescue Mission in Miami, Fla. Volunteers engaged with residents and provided meals to more than 250 residents.
SOS Children's Village – 15 volunteers participated in a beautification project at the SOS Children's Village in Coconut Creek. Participants decorated homes and took inventory of items for the Villages' annual Light Up the Village event. They also served meals from Miami Dolphins Minority Restaurant Partner, Reggae Beets, to more than 50 children.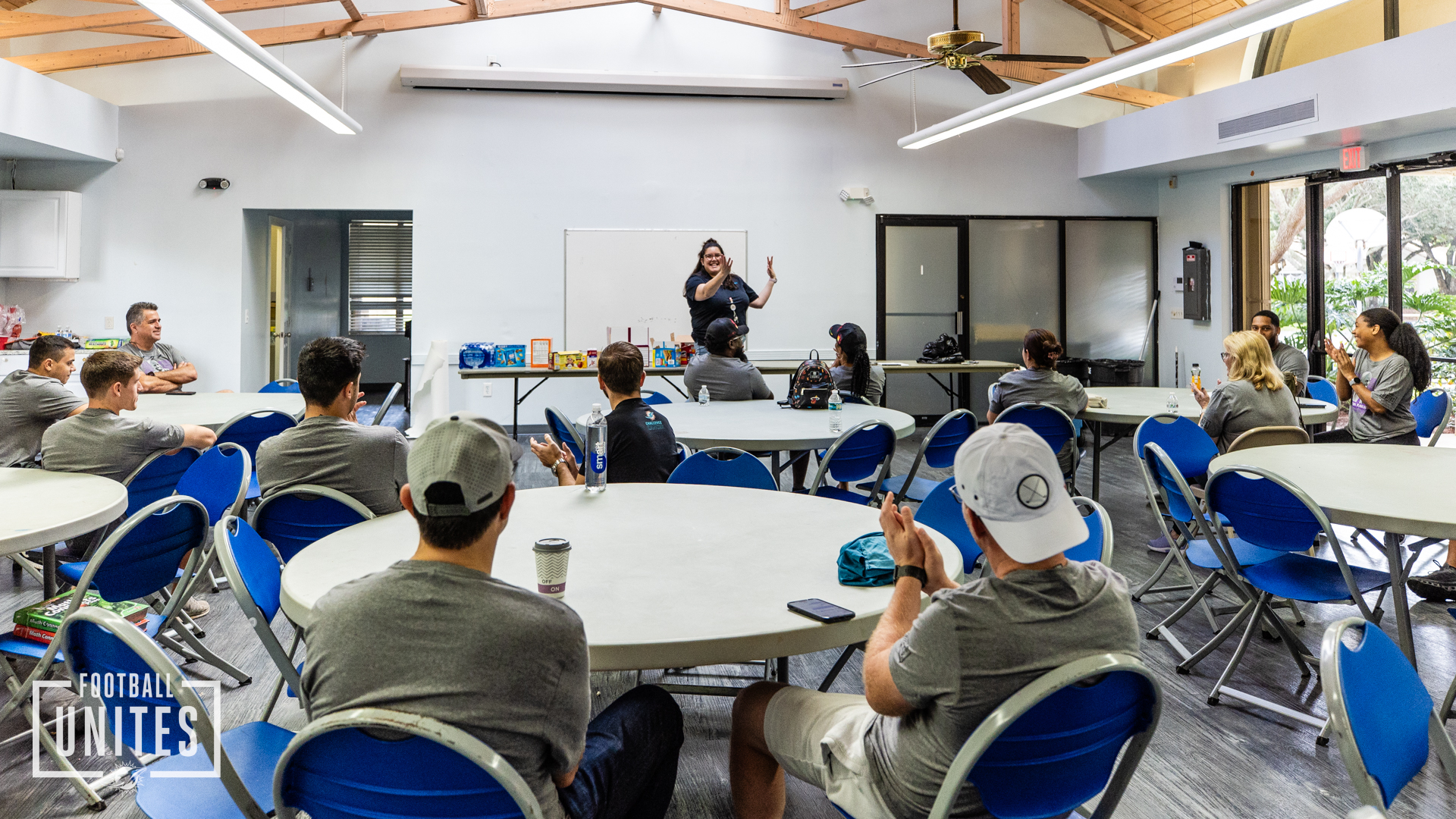 SunServe – Another beautification project occurred at SunServe in Fort Lauderdale. Over 15 Volunteers painted and decorated tiles to renovate their group room which serves over 500 members of the community each year.
Young Women's Christian Association –  Elizabeth Jenkins once again joined 50 volunteers to pack care packages with hygiene products at the YWCA in Miami Gardens. Over 300 hygiene kits are expected to support over 1,200 family members and ensure that those struggling with financial hardships can still have access to hygiene.
"Jason was a unifier of people, and he dedicated his life to bringing people in South Florida together through service and the power of football," said Garfinkel. "We are proud to continue to honor Jason's legacy and carry on his impact by serving the South Florida community he loved so much. We miss him dearly, but his legacy will continue to live on and inspire us to make a positive impact in South Florida and beyond."
Catch the 6-2 Dolphins as they take on the 6-2 Kansas City Chiefs in Frankfurt, Germany on Sunday, November 5th at 9:30 a.m.
📸 Credit: Jose Pineiro / Miami Dolphins
(Visited 21 times, 1 visits today)