Coral Gables, FL – The Miami Hurricanes' nightmarish losing streak continues as they dropped the second game of this weekends tilt Saturday night despite the return of Michael Amditis, falling 9-6 to the red-hot North Carlina Tar Heels. Three-time ACC Pitcher of the Week Evan McKendry (4-3, 3.12 ERA) faced off against fellow righty Austin Bergner (4-1, 3.58 ERA) for Game 2 of the three-game set.
Despite his efforts, it just wasn't enough as the sophomore struggled with his command throwing four wild pitches, issuing four walks and beaning a batter in an uncharacteristic performance. #NotBully
Miami has now lost seven in a row.
McKendry ran into trouble early after Michael Busch laid down a squeeze bunt to get on base. He later walked UNC third baseman Kyle Datres to put runners at first and second for centerfielder Brandon Riley. Riley hit a grounder to Willy Escala but he was unable to turn a double-play, leaving runners at the corners with two outs. On the next batter, McKendry threw a wild pitch, scoring the runner from third and putting the Tar Heels up 1-0. Despite throwing a second consecutive wild pitch, McKendry struck out designated hitter Dallas Tessar to end the inning.
North Carolina's lead was short-lived.
After a pair of singles from both Freddy Zamora and Escala, enhanced by their aggressive heads-up baserunning during each play, the freshman Gabe Rivera went up to bat with runners at second and third. With one swing, Rivera took Bergner deep to left for a base-clearing three-run bomb to put Miami on top.
Canes add three in the first on Gabe Rivera's second BOMBA of the season! pic.twitter.com/HUNcf54FKF

— Canes Baseball (@CanesBaseball) April 7, 2018
Amditis returned to the squad after several weeks on the disabled list (bone bruise), giving a much-needed morale boost. He was in for a busy night at the plate, shaking off the rust. Isaac Quinones who had been filling in for the injured sophomore was moved to DH. Quinones has been having a fantastic season batting .338 with six doubles and 11 RBIs.
The wild pitches kept on coming as McKendry threw two more in the third, though to be fair it wasn't entirely his fault. Regardless, North Carolina capitalized on the mistakes scoring their second run of the game with a sac fly deep to center. The Tar Heels tied it up as Zack Gahagan singled to left, scoring Riley for run number three.
McKendry ran into more trouble in the fourth, starting with a great bunt by Tessar, followed by a single to centerfield by Ike Freeman, placing a runner in scoring position. While he did recover, briefly, striking out the next two hitters, he'd walk Cody Roberts to load the bases. Worse, Busch managed to hit a double down the leftfield line bringing all the runners home for a 6-3 lead.
Miami threatened in the fourth after Michael Burns smacked a single and Hunter Tackett walked, putting two runners on with no outs, ending Bergner's night. Raymond Gil laid down the bunt to move the runners setting it up for the catcher. Amditis hit a grounder to first but Busch botched the throw to home, allowing Burns to score on the error.
#Canes are so not #Bully tonight
Need someone to step up
Canes trailing at #TheLight

UNC 7 9 1
🙌🏻 5 7 1
⬆7⃣@CanesBaseball #SportsLemonade pic.twitter.com/49EYeoaREY

— Lemon City Live (@LemonCityLive) April 8, 2018
Afterward, Zamora walked to load the bases for Escala, managing a ground ball towards second. Fortunately, Zamora had enough of a jump to dissuade any double play attempt. Escala was thrown out at first but it ensured another run to put Miami within one.
It was the closest they'd get.
North Carolina added three more runs, ensuring the victory despite a solo shot by Zamora in the seventh. The Hurricanes descend to 12-18 (6-8 conf.) while UNC improves to 21-10 (10-4 conf.), punctuating the opposing team's wildly different trajectories.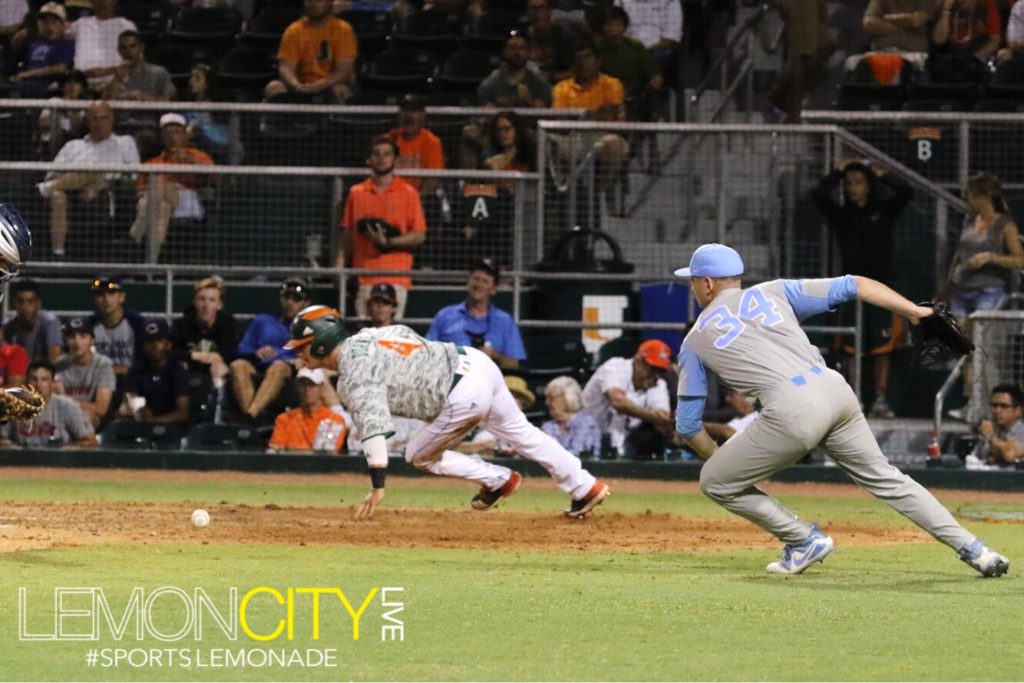 Game Notes
Miami scored six runs on 10 hits stranding just six runners while committing one error.
North Carolina has now won seven straight including a sweep last weekend against Wake Forest.
Miami leads the series 38-31 with a tie, dominating at home with a 24-12 record.
Freddy Zamora finished 4-for-4 with a solo home run in the seventh, his first of the season.
Gabe Rivera ended the night going 2-for-4 with 3 RBIs and a dinger of his own back in the first inning.
Evan McKendry lasted 5 and a third, surrendering seven runs on eight hits, notching seven strikeouts. His record falls to 4-4 on the year.
Canes drop game two 9-6.

🚨Tomorrow's game will start at 12:00 pm rather than 1:00 due to forecasted rain.🚨 pic.twitter.com/Sj3f7EMvul

— Canes Baseball (@CanesBaseball) April 8, 2018
Miami concludes the three-game series tomorrow before hosting the University of Central Florida on Wednesday, followed by a trip to South Carolina to face ACC rival Clemson next weekend.
[foogallery id="11844″]
(Visited 198 times, 1 visits today)