---
Miami, Florida –There was plenty of merengue power tonight as Jesús Sánchez and Sandy Alcantara took care of the Cincinnati Reds helping to win 6-1 Saturday. The fans were treated to plenty of hitting and more importantly plenty of scoring as the Miami Marlins celebrated Dominican heritage. Alcantara dominated Cincinnatti's offense punching out a brand new career-high 12 batters. He limited the Reds to a paltry run on six hits.
With the win, the Marlins improved to 54-76. They are poised to take the series on Sunday's rubber match. The fish were absolutely trounced by the Reds last weekend losing all four contests, part of an ugly eight-game losing skid.
After setting a new career high with 12 strikeouts, Sandy Alcantara is our WellMax Player of the Game!@Marlins | #JuntosMiami pic.twitter.com/nex2f0f6mT

— Bally Sports Florida: Marlins (@BallyMarlins) August 29, 2021
Early Victory
The Marlins jumped all over Cincy starter Vladimir Gutierrez in the first inning unleashing a five-run barrage. It culminated in a first-pitch three-run blast from Sánchez himself. Gutierrez didn't allow much after that. However, he was pulled in the fourth. Using a combination of both small ball and the long ball Miami quickly took the lead. They never looked back. This sort of early offense has not been seen since 2017. Wowza!
Single
Single
Catcher's Interference
2 RBI single (baserunning out)
Single
3-run HR
Single
Single
Sacrifice bunt
Lineout

Take a look back at the Marlins electric 1st inning tonight!@Marlins | #JuntosMiami pic.twitter.com/8bnJSXieQR

— Bally Sports Florida: Marlins (@BallyMarlins) August 29, 2021
Jesús Aguilar reached first on a catcher's interference after back-to-back singles from Miguel Rojas and Jazz Chisholm. Jorge Alfaro came up next hitting a soft bloop to right field for the two-RBI single. Alfaro is currently riding a nifty six-game hitting streak. He also swiped his eighth bag of the season. Sánchez then crushed a no-doubter to centerfield making it 5-0 Marlins. The 23-year-old was out there repping his home country well.
And he wasn't the only one.
The Sand Man was on fire bullying the visitors all night getting plenty of assistance at the plate. Bryan De La Cruz, another DR native, finished two-for-four. De La Cruz is now hitting a red hot .355 batting average.
Sandy Alcantara speaks postgame after setting a new career high with 12 K in the Marlins win

He shares what it was like to get the start on Dominican Heritage Night, how his heritage shaped him as a player, and more…@Marlins | #JuntosMiami pic.twitter.com/BVJejscyoY

— Bally Sports Florida: Marlins (@BallyMarlins) August 29, 2021
Miami tacked on another run in the sixth thanks to Chisholm and Alfaro bashing a pair of doubles. It was Jazzy's first career three-hit game collecting two base hits and of course the double.
A win for the DR
The Dominican Republic was well represented tonight. There were fine performances from a trio of Marlins players in the lineup. Sánchez is from Higuey, De La Cruz was born in Santo Domingo Este, and last but certainly not least Alcantara's hometown is Azua. DR boasts the second-highest number of baseball players in Major League Baseball behind only the United States. The Dominican Republic also won the World Baseball Classic in 2013 shutting out Puerto Rico 3-0 in San Francisco.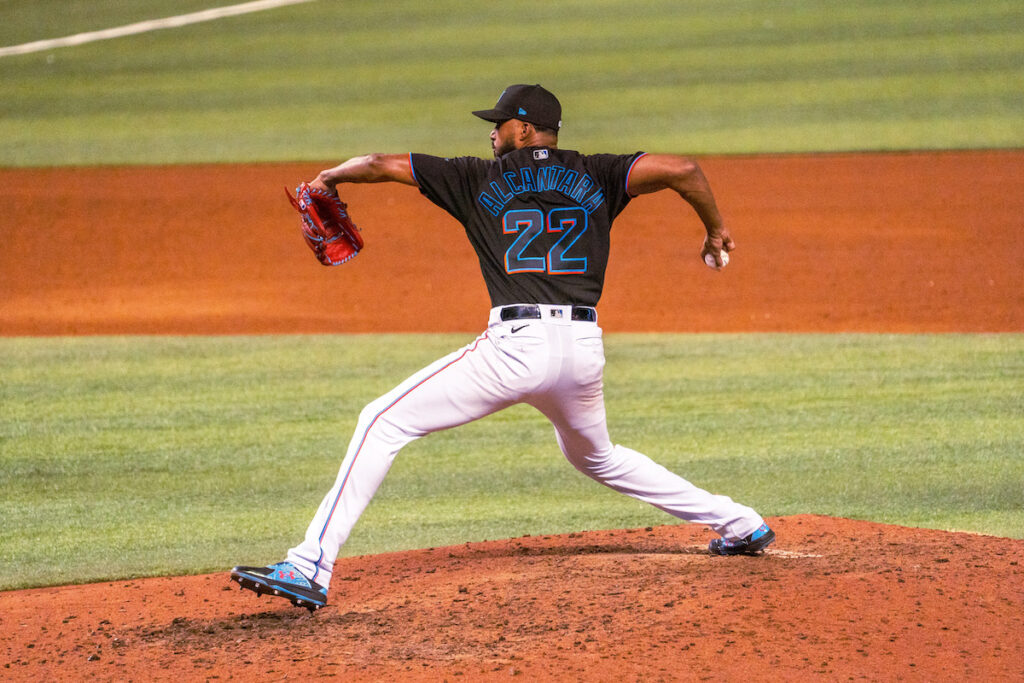 Miami also has Edward Cabrera, Magneuris Sierra, Jorge Guzmán, and José Devers as part of the DR crew. We've had a lot of Dominican players over the years. Names like Luis Castillo, Marcell Ozuna, Hanley Ramirez, Yimi García and Starling Marte to name a few. The contributions from these individuals and many others of different nationalities have helped grow the game internationally making baseball that much better.
"I think this is what our crowd should feel like…that's a fun atmosphere…so, maybe we have Dominican night every night"

Don Mattingly reflects on a great night from Sandy Alcantara and 6-1 Marlins win on Dominican Heritage Night 🇩🇴@Marlins | #JuntosMiami pic.twitter.com/vOvIgJ2RLu

— Bally Sports Florida: Marlins (@BallyMarlins) August 29, 2021
Game Notes
Sandy Alcantara: 7 IP, 6 H, 1 ER, 1 BB, 12 K
Cincinnati scored one run on eight hits committing one error
Miami scored six runs on 12 hits playing clean defense
Jorge Alfaro: 2-for-4, 1 run, 3 RBIs
All the non-pitching starters got at least a hit tonight
Team RISP: 4-for-12
Photo | Danis Sosa
(Visited 39 times, 1 visits today)
About Post Author