Revolution!
St. Petersburg, FL – The Revolution is here! And it was most definitely televised. Defined by Merriam Webster as: A sudden, radical, or complete change, the revolution has arrived at FIU. Stage one of the Butch Davis Era ended a five-year drought without bowl eligibility. Coming off a 2016 4-8 season, the now 8-4 Panthers are primetime on ESPN, facing a 6-6 Temple Owls team who were picked to win by most gasbags, I mean "experts".
FIU's defense came out strong, forcing a punt and then recovering a fumble in Temple's 1st two drives. The problem is that FIU starting senior QB, Alex McGough injured his left shoulder on FIU's 1st drive. What a terrible way to end your college career. McGough suffered three years of losing under then coach Ron Turner. Butch Davis came to town like Santa Clause, bearing gifts in the form of W's. He helped McGough lead his team to their 1st bowl game since 2011, in his only winning season as a Panther, and less than five minutes into the game it's all over… Not fair.
Oh no… @FIUFootball starting Senior QB @McgoughAlex came back out in street clothes, and with ice around his shoulder. It looks like his game, and college career are now over. Thank you, Alex. #TEMvsFIU #GasparillaBowl pic.twitter.com/FNqjKbnW98

— Lemon City Live (@LemonCityLive) December 22, 2017
With McGough out, the Panthers had trouble moving the ball and kept going three and out. This allowed Temple to control the pace of the game while FIU figured out their woes. And at this point, they've got more woes than a Black Rob track. I must say, Temple isn't great, and doesn't deserve to be winning this game. They were able to score one TD before the half ended. Only one TD while FIU played without their starting QB and their best WR. The Panthers' defense kept them in this game, not allowing Temple to do much, but when your defense can't keep off the field because your offense can't stay on it, that D eventually wears down.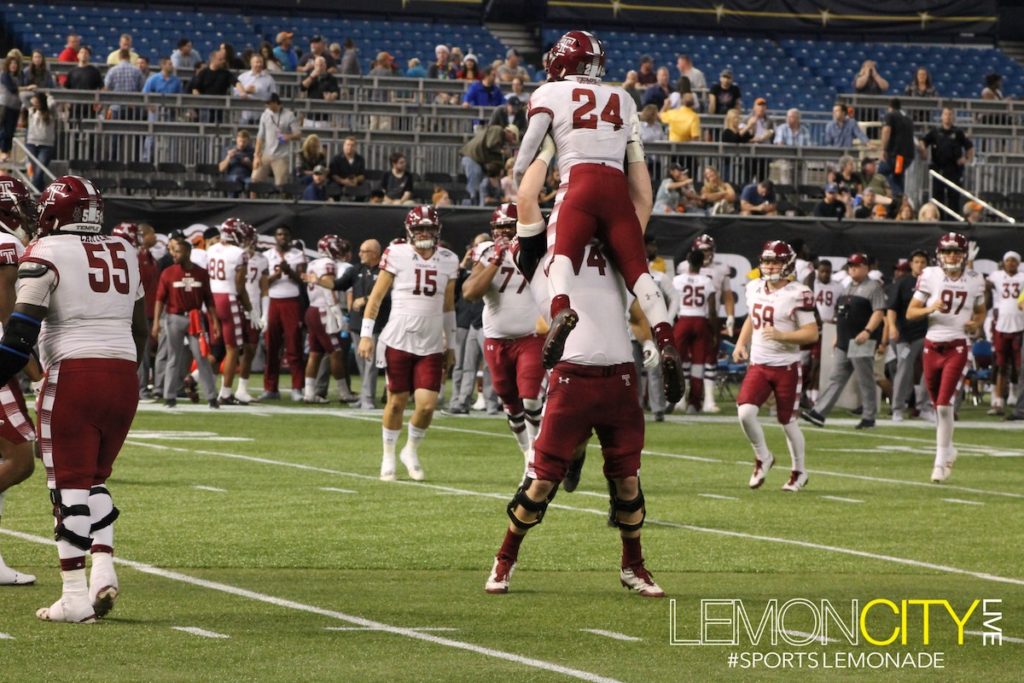 In the 2nd half, both teams were just punting to each other, but the Panthers eventually took the ball downfield, 12 plays, 62 yards, and converted a field goal with 3:12 left in the 3rd quarter. Is this some life for the Panthers? In Temple's very next drive, they completed one of the crazier series of events I've seen in awhile, so the answer is NO. Temple WR, Adonis Jennings, takes a 39-yard out-route to the end zone, but is interfered with by FIU's Brad Muhammad. They got tangled up and both take a fall, but Jennings keeps his focus on the ball and is still able to come down with it at the one-yard-line. Needless to say, the penalty was declined. In the next play, Temple RB David Hood rushes, seems to break the goal line, but after a review, it was overturned. They tried it again, but an FIU player knocked the ball out of his hands, as he tried to reach for the goal line. The nearest goal line judge didn't call anything, but the ref on the far end of the goal line called a TD. Without reviewing the play, the TD call was upheld. This game's officiating was riddled with inconsistencies.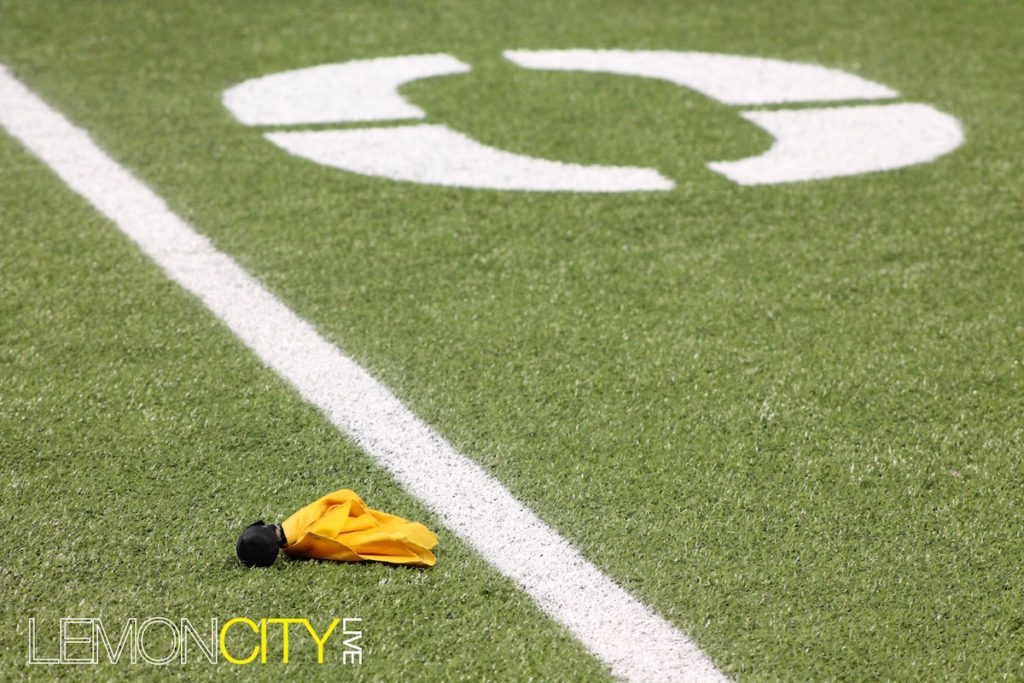 The 4th quarter was FIU running out of steam. Without your star QB and WR, you can't expect your offense to do much of anything. It doesn't help that throughout the game the Panther's threw two interceptions and lost a fumble. Temple's offense was finally able to tire out the Panthers and put up two TD's with FIU crawling to the finish line. Looks like the gasbags, I mean "experts" were right. How'd they know McGough was going to get injured?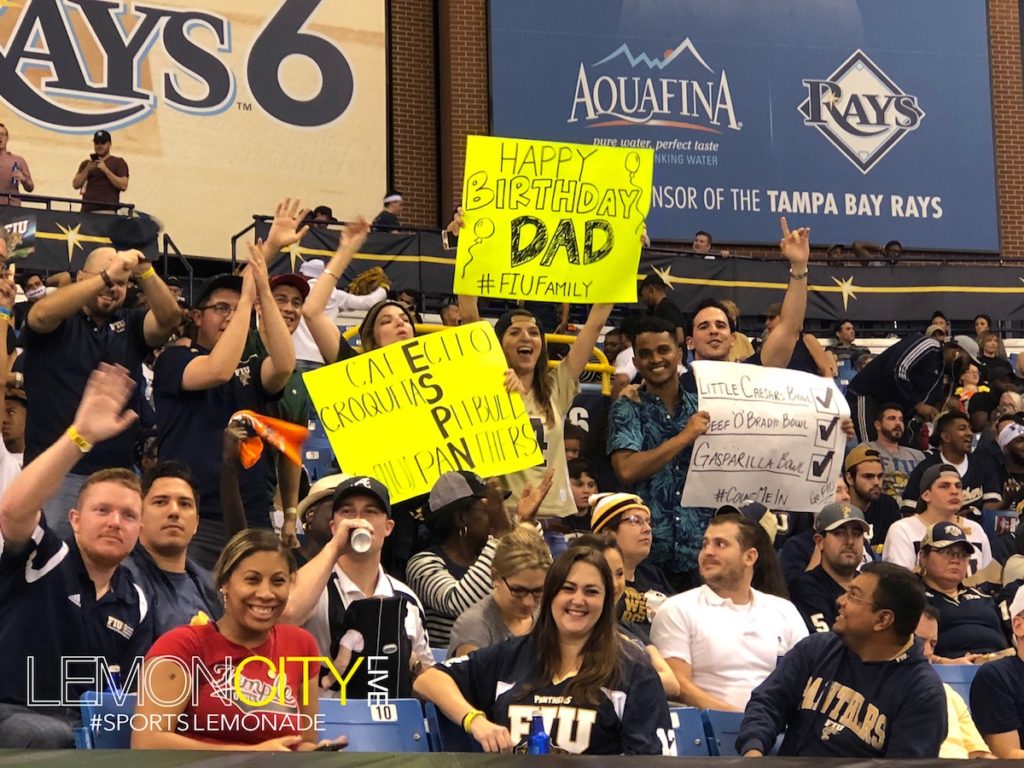 No one said revolutions were easy or attained without any bumps in the road.
"You see, revolution sounds like something that happens, like turning on the light switch, but actually it's moving a large obstacle, and a lot of folks' efforts to push it in one direction or the other have to combine." –Gil Scott-Heron.
Coach Butch Davis can't do it alone. He's great, and he's done so much already, in just one season, but great programs all have one thing in common, community. Everyone wants to be part of something. In the post-game press conference, Butch Davis said, "The best recruiters we have in our entire football staff are our football players." I agree with that statement 100%. All you have to do is look a few miles across the city to see how that works out. The Canes have built a culture of community unlike most programs in the nation, and with Bucci Mane leading the way, the path to greatness is laid out in front of all FIU fans.
Roary's ready to party! #GasparillaBowl #PawsUp pic.twitter.com/C9sXmcMwRm

— Lemon City Live (@LemonCityLive) December 22, 2017
For more pictures from this game, please CLICK HERE.
Don't forget to follow us on Twitter, Facebook, and Instagram. 
(Visited 131 times, 1 visits today)